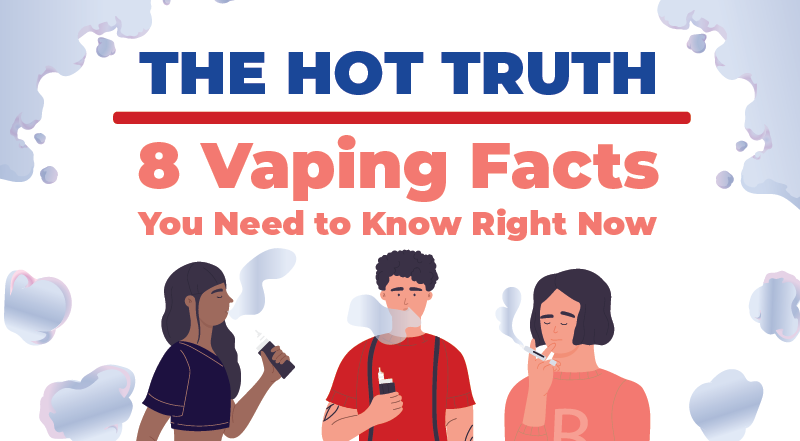 "Cigarette smoking is dangerous to your health" is a common word of caution seen in cigarette ads and labels. Not only is this true, but also a good reminder. Smoking entails many adverse effects that can damage the lungs and other parts of the body, including the heart, throat, eyes, nose, and mouth.
The long-term effects of smoking are so severe that the diseases linked to it can cause lasting damage to one's physical and mental health and, in worst cases, can even be fatal.
Around 87,600 Filipinos die every year because of tobacco use. According to the American Centers for Disease Control & Prevention (CDC), the risk for the following diseases increases with continued tobacco use:
Coronary heart disease (2-4 times)
Stroke (2-4 times)
Developing lung cancer

Men (25 times)
Women (25.7 times)
While it is challenging to quit smoking because of its addictive qualities, many people are switching to what is, seemingly, the less unhealthy option—vaping. However, is vaping considerably less harmful? How much is known about vaping? We have created an infographic to deliver some interesting vaping facts.
E-Cigarette and Vaping Statistics
In 2003, Hon Lik, a Chinese pharmacist, invented the e-cigarette that we know today. Since its creation, the number of people switching from traditional tobacco to these vaping devices has been rising.
In 2021, the Global State of Tobacco Harm Reduction (GSTHR) published a worldwide estimate of around 82 million vape users, a 17% increase from 2020. Among these numbers, the Philippines' vape users stand at 2.7 million in 2021, about 3% of the global population of vape users. While the numbers continue to grow, so do the number of cases of vape-related diseases.
In February 2020, the CDC confirmed 2,807 cases of vape-related lung injury and 68 deaths attributed to the condition. Furthermore, continued e-cigarette usage can lead to heart-related diseases.
According to WebMD, e-cigarette users were 56% more likely to suffer a heart attack than non-users since these devices contain enough nicotine to raise blood pressure and cause adrenaline spikes. This leads to an increased heart rate, developing the risk of a heart attack, coronary artery disease, and blood circulation problems.
How Do E-cigarettes or Vaping Devices Work?
Most e-cigarettes have four components: a cartridge to hold the liquid solution, a heating element, a power source, and a mouthpiece. The vapor, or aerosol for e-cigarettes, produced comes from the liquid solution or e-juice. This juice usually contains water, nicotine, flavorings, and a propylene glycol or vegetable glycerin base.
Puffing or pressing a button activates the heating device, which then vaporizes the liquid in the cartridge that is to be inhaled by a person.
If it is that simple, is vaping safe to use? Many claims say that vaping is a less unhealthy option than smoking; however, there are claims that state otherwise.
8 Facts About E-Cigarettes and Vaping
Consistent vape users argue that vaping and e-cigarettes have helped them stay away from regular smoking. But with different claims out there, it would be best to stick to the facts.
1. The long-term effects are unknown but vaping is not harmless.
While vaping's long-term effects are still largely unknown, growing evidence proves that vaping is not harmless. While smoking and secondhand smoking is known to be bad, the same cannot be said about vaping because of the lack of studies.
Vaping has not been around long enough for researchers to make significant findings on its effects. More research is required to conclude if vaping and secondhand vaping can be harmful in the long term. However, immediate side-effects are a different story.
2. Vaping is less harmful than cigarettes but is still not healthy.
Smoking has been around long enough for researchers to know that long-term use can cause serious damage to the body. With this, it is easy to assume that vaping is less unhealthy or "better" than smoking. However, know that e-cigarette juice still contains nicotine. E-juice contains other ingredients like flavorings and other chemicals, which are still unknown if safe or not.
According to Michael Joseph Blaha of Johns Hopkins Medicine, "There is almost no doubt that vaping exposes you to fewer toxic chemicals than smoking traditional cigarettes." However, these "fewer harmful chemicals" are those that can lead to an outbreak of lung injuries and deaths.
3. Vape still contains nicotine and other harmful chemicals.
Nicotine is a chemical from tobacco found in both traditional and electronic cigarettes. CDC found that about 99% of e-cigarettes contain nicotine. What is worse is that e-cigarette users can get higher nicotine concentrations in their e-juice if they want to.
Users can buy extra-strength cartridges or increase the e-cigarette's voltage to get a more potent nicotine hit. Blaha explains that vape-related lung injuries predominantly affect the people who modify their e-cigarettes or use e-liquids containing tetrahydrocannabinol (THC) or cannabis.
4.Vaping affects more than just the lungs.
While it is a known fact that nicotine is bad for the lungs, it is also bad for other organs. Nicotine is an addictive chemical in e-cigarettes that can raise blood pressure and spike adrenaline. This spike can cause the heart rate to increase and the likelihood of suffering a heart attack.
Consistent vape use can also lead to mouth and gum conditions. The mouth can be a primary indicator of health issues. Nicotine decreases blood flow and nutrition to the gums, causing them to go black.
Black gums or smoker's melanosis is a disease where nicotine causes the melanocytes, the cells in the body that make melanin, to produce more than usual. This increase in melanin production results in dark and damaged gums. Damaged gum tissues can lead to a whole host of other oral issues.
5. E-cigarettes are still addictive.
Both traditional and electronic cigarettes contain nicotine; the only difference is that traditional smoking delivers nicotine to the body by burning the tobacco while vaping delivers nicotine by heating a liquid that turns into vapor and aerosol. This nicotine-infused vapor makes e-cigarettes just as addictive as traditional ones.
Withdrawal may be evident in people who want to quit but are already suffering from nicotine addiction. Look out for signs such as migraines, anger, frustration, insomnia, and anxiety, among other related symptoms. There are more effective ways to quit smoking that are proven safe, such as chewing gums, lozenges, and patches to help cope with these symptoms.
6. They are marketed toward the youth.
Many e-cigarette juices are made with various flavors, such as fruit or their favorite candy bar, that attract the younger demographic, which prove to be very effective. A 2021 National Youth Tobacco Survey (NYTS) found that around 85% of young e-cigarette users use flavored products, such as fruit, candy, menthol, and mint.
What is more alarming is that back in 2016, it was said that around 20.5 million US middle and high school students encountered e-cigarette advertisements from primary media sources like the Internet, television, movies, magazine, and newspapers.
7. Vaping can affect an adolescent's brain development.
With millions of adolescents being exposed to e-cigarette advertising, the concern for their brain development continues to grow. Brain development starts in the womb and continues throughout a person's childhood and into early adulthood at around 25 years old. Nicotine exposure at such a young age can hamper the brain's development and cause addiction.
8. Vaping is ineffective in quitting smoking. 
While many seem to think that vaping is a way to quit smoking, this claim is not supported by the American Food and Drug Administration (FDA). There is very limited research that shows evidence that electronic cigarettes are effective in helping smokers quit. While some smokers have made a complete switch to vaping, some end up smoking while vaping. This is called "dual use."
According to the CDC, dual use is not an effective way to quit nor safeguard one's health. Quitting smoking completely, including e-cigarettes, is the only way to protect a person's health from the effects of smoking and vaping.
Stick to the Facts and Stay Healthy
Vaping is known worldwide for being the alternative to traditional smoking. However, an alternative does not necessarily mean better. There is not enough r to prove the advantages of vaping over traditional cigarettes nor how it helps manage nicotine addiction.
Switching to electronic cigarettes will not cut it. The best way to quit smoking is to wean off nicotine and gradually work toward turning away from it or stopping altogether. There are other safer and more effective ways to stop smoking, such as counseling, medicines, and nicotine-infused products, to help with the transition.
Long-term smoking entails a myriad of pulmonary-related diseases that one could catch early on. Choosing to ignore the signs would be detrimental to an individual's health. Makati Medical Center offers world-class pulmonary disease services to help identify underlying diseases brought by long-term smoking or vaping and provide proper treatment. Reach out to us today.