*NOTE: Donations through PayPal are subject to charges and/or transaction fees.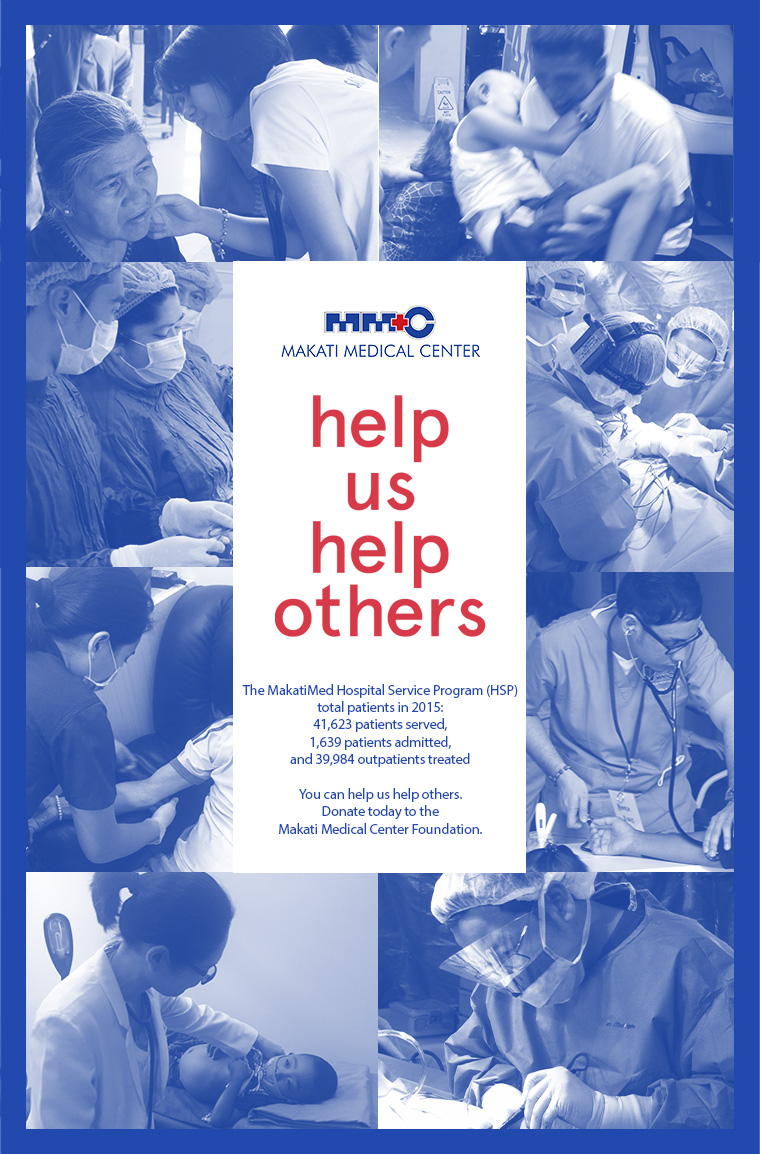 Help Us Help Others: Fundraising for the MMC Foundation
Makati Medical Center invites everyone to participate in an ongoing fundraising program for the MMC Foundation. This is for the benefit of the MakatiMed Health Service Program (HSP), which leads medical missions all over the country and provides discounted medical services to patients in need.
In "Help Us Help Others", individuals may give cash donations directly to the MMC Foundation. There are also drop boxes installed in various areas of Makati Medical Center:
Tower 1
Tower 1 Main Lobby
1st Floor Elevator Lobby
2nd Floor Elevator Lobby
3rd Floor Elevator Lobby
4th Floor, Nurses Station
5th to 9th Floor, Nurses Stations


Tower 2
1st Floor Floating Island
7th Floor Nurses Station


Part of Help Us Help Others is "Give a Gift that Gives Back"—individuals can purchase a ruled journal (PhP400) and a set of 12 unique cards (PhP350) in a stylish red or blue envelope. Each card features artwork from the country's top artists, with ample space to write messages to loved ones. The cards were produced in partnership with CANVAS, a nonprofit organization dedicated to promoting greater awareness and appreciation for Philippine art, culture, and the environment. A portion of the proceeds will go to the HSP.
MakatiMed physicians and medical staff take part every year in various medical missions in Metro Manila and nearby provinces. Led by the HSP, these medical missions reaching communities in the cities of Makati, Muntinlupa, Paranaque, Manila, Mandaluyong, and Marikina, and the provinces of Batangas, Cavite, Isabela, Laguna, and Pampanga, helped more than 9,300 patients in 2016.
HSP served a total of 32,052 patients in 2016, with 1,286 availing themselves of discounted inpatient procedures, and 1,011 undergoing discounted outpatient procedures.
Any amount, no matter how small, will help the HSP help more patients all over the country.
MMC Foundation donations may be deposited directly to: PayPal, Makati Medical Center Foundation, Inc. Unionbank PhP Account (001750000560). Please email [email protected] if you have made a donation so that we can issue you an Official Receipt.
The items for sale for "Gift a Gift that Gives Back" are for pick-up only at the MakatiMed Marketing & Sales Services Office. For more information, please email [email protected] or call 8888 8999 local 3755 or 3757.
Thank you very much.