Parking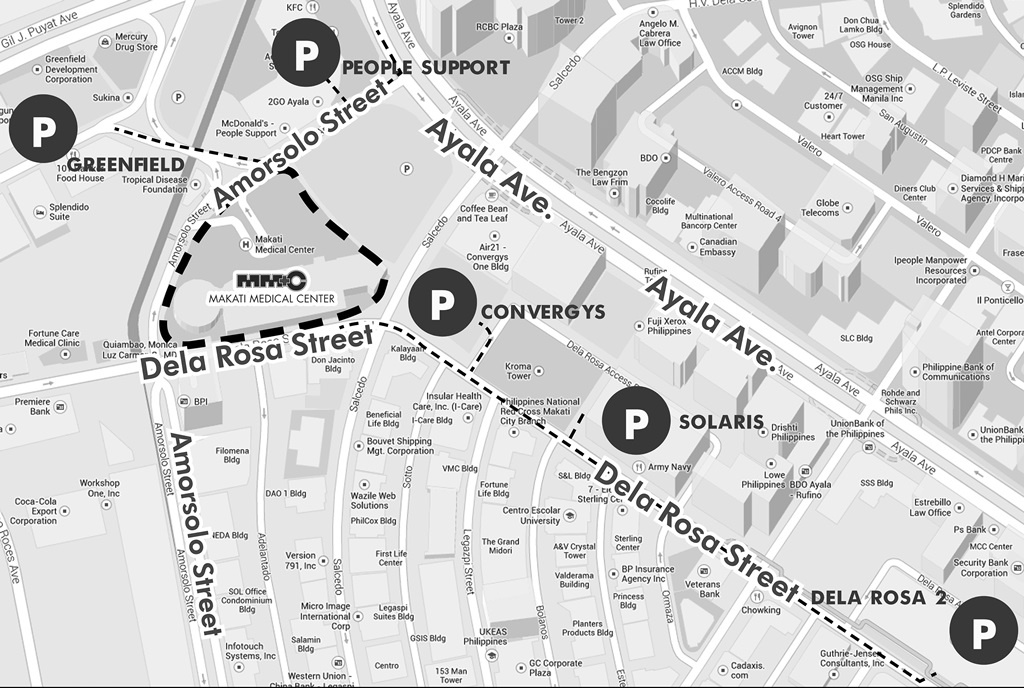 Parking facilities near Makati Medical Center
There are nearby parking areas at walking distance to the hospital. Please note that these facilities are independent from the hospital and that parking fees will be collected.
The MakatiMed Medical Concierge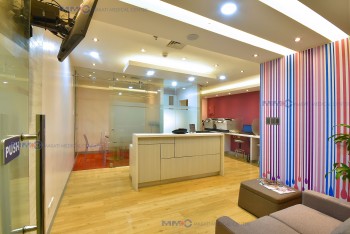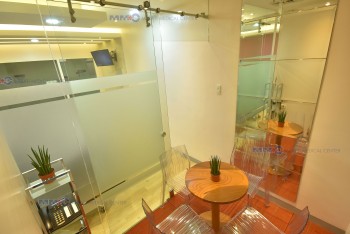 The MakatiMed Medical Concierge is a full-service facility providing personalized assistance and support to patients, guests, and members & beneficiaries of corporate accounts and HMO partners. One of its competitive advantages include assistance from our key personnel who are knowledgeable in the international and local medical insurance processes. They will assist in the following requests:
Basic Services- Coordination with International Insurance Agencies; Assistance for Admission & Discharge; Requests for Medical Records, Results, & Medical Prescriptions; Referrals and Appointment Setting with Medical Consultants and Diagnostic Units; Airport Transfers, and Language Translation
Corporate Services- Assistance for LOA/LOG Issuance & Clarification; Medical Package Inquiries; Referral to Accredited Consultants
Business Center Services-  Internet and Telephone Use, Printing, Photocopying, Facsimile, Scanning, and Laminatio
---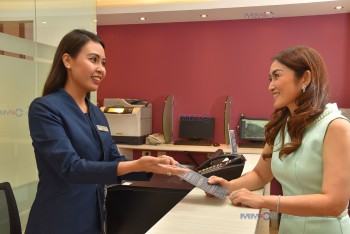 Premium non-medical demands can be challenging in a hospital setting. MakatiMed partnered with a renowned lifestyle company, Aspire Lifestyles, to bring healthcare and lifestyle together for the comfort, safety and luxury needs of our patients and guests who need exemplary service and attention while in MakatiMed. Aspire Lifestyles can make "even beyond the possible" happen (fees may apply). Some of the premium services available for your high-end necessities:
Travel – In ocular & VISA Requirement Information, Trip Planning & Assistance (Flights, Cruise, Yacht, Hotels & Transfers), Luxury Car Reservation, Airport Lounge Access, Travel & Destination Recommendations, etc.
Wine & Dine- Dining Reservation, Private Dining Arrangement, Food Tasting
Arts & Culture- Special Events & Performance Arrangement, Information & Referral to Cultural Centers, Museums, Art Gallery and Exhibition.
Shopping- Personal Shopping, Flower & Gift Delivery, Referral & Assistance on Jewelry, Watches, Arts, Antiques, Shopping Malls with Location, Spa, Fitness Center, Tailoring, etc.
Others- Pet Care, Grooming Transportation; Laundry Services, Home Grocery Delivery, Massage & Aromatherapy, Event Planning
We do not just value your health and wellness. We also value and understand your needs and we want to make it as comfortable as possible from the moment you step inside MakatiMed until you go back home or arrive at your destination. All these, we can do for you!
Talk to our Medical Concierge personnel to inquire or discuss your medical and non-medical requirements.
Medical Concierge
1st Floor Tower 1
2 Amorsolo Street, Legaspi Village
Makati City, Philippines 1229
+632 8888 8999 local 7193
[email protected]

Service Hours
Monday- Friday 8:00AM to 7:00PM
Saturday 8:00AM to 5:00PM
International or Out-Of-Town Patients
If you will be coming from outside Metro Manila or overseas, you can coordinate your hospital admission or medical appointment through phone or email. You may contact MakatiMed OnCall at +632 8888.999 locals 8708 or 3781, or email [email protected] or [email protected].
Visiting Hours & Guidelines
Visitors are an important part of the healing process and we encourage family and friends to spend time with you and to bring you good cheer. However, to ensure the comfort and well-being of our patients and the safety of your visitors, we ask that visitors observe the following guidelines:
Room Type

Visiting Hours and Room Guidelines

Regular rooms
7:00 AM to 9:00 PM
Medical, Pediatric and
Surgical Intensive Care Units
10:00 AM to 2:00 PM and 5:00 PM to 8:00 PM
Isolation rooms
7:00 AM to 9:00 PM, if visitors are allowed by the patient's attending physician
Newborn Services Unit

24 hours, only for parents of admitted newborns

MakatiMed supports the Mother-Baby Friendly Hospital Initiative (MBFHI) program of the DOH, the United Nations Children's Fund (UNICEF), and the World Health Organization (WHO) through rooming-in of newborns with their mothers. For newborns clinically required to stay at the Newborn Services Unit:

Only parents and/or their designated companion wearing a green identification band are allowed to enter the Newborn Services Unit
All other relatives or visitors may see the newborns anytime at the viewing window by request, provided they present a "show my baby" card.
Only visitors free from fever, not recently exposed to communicable diseases, or have no visible signs of illness are allowed to visit
For children's safety and well-being, it is not recommended that children, seven (7) years old and below, visit relatives and friends confined in the hospital
Aside from the patient's companion, only two (2) visitors per patient are allowed to visit at a time
Hospital staff reserves the right to limit visitation, as needed, to meet the healthcare needs of the patients or to protect the patient's privacy needs
If visitors are restricted, an explanation of the reason for the restrictions will be given to you, your companion and your visitors
Flowers for patients are welcome, except in the Intensive Care Units and Cancer Center (Oncology and Bone Marrow Transplant Unit), or when a patient is allergic to pollen
Balloons are also welcome as gifts, provided they are made of shiny plastic known as mylar. Latex and helium balloons, which can cause allergic reactions, are not allowed anywhere in the hospital
Friends and family may call +632.8888.999 and dial 0 to know your room number. However, your privacy is important to us. Please inform the nurse or admitting personnel if you wish this information withheld
If a patient expressly wishes or if the physician orders that visitors are excluded for medical/therapeutic reason, a "NO VISITORS" sign is posted on the patient's door
If a "NO VISITOR" sign is posted on a patient's door but the visitor is already inside the room, the nurse on duty may inform the patient and ask the visitor to leave, or when appropriate, inform the hospital security personnel who in turn will inform the visitor that visits are not allowed
In accordance with local government rules and regulations, the "No Smoking" policy is strictly practiced within the hospital buildings and premises to protect the health of our patients, visitors, and staff
During times of infectious outbreak in the community (e.g., influenza, upper respiratory diseases, measles, mumps, chicken pox, etc.), the Infection Control Committee may recommend visit restrictions
After Visiting Hours
Visitations outside of regular visiting hours are permitted at the discretion of your nurse on the basis of patient's need and/or request
Overnight visitation is generally discouraged, although exceptions are made in unusual circumstances
After 9:00 PM, in coordination with the charge nurse, the guard on duty gives each patient's immediate relative/guardian/visitor a visitor's pass, for your safety and for security purposes, and to control the number of visitors inside a patient's room
After the regular visiting hours, the guard on duty may advise visitors without a visitor's pass to leave the premises
Planning Your Visit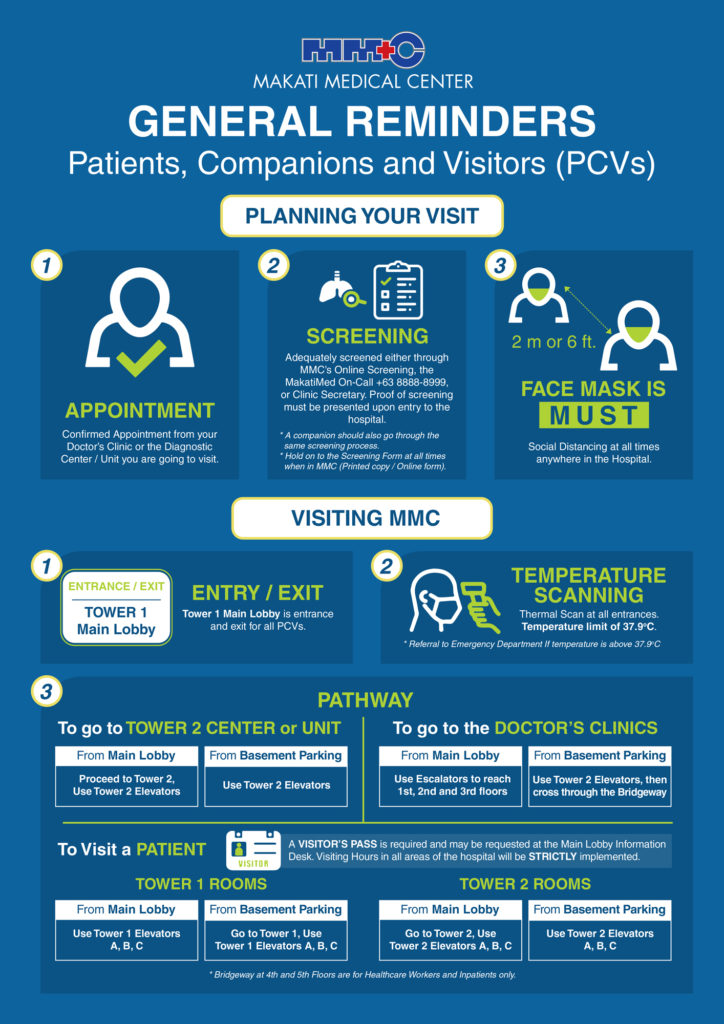 Scheduling Your Visit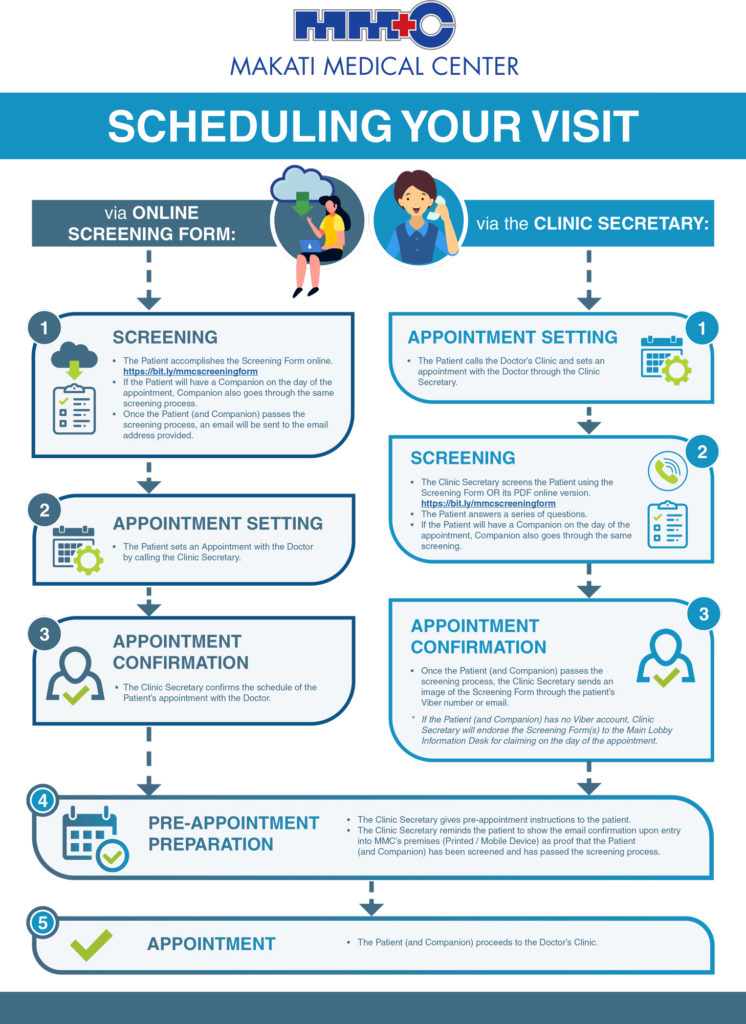 Shops / Concessionaires
We have the following shops for your convenience:
Ground Floor / Tower 1
Banco De Oro (BDO) – Bank, ATM
Cafe France
ATM center – ATMs of various banks (BPI, BDO, Equicom, Metrobank, PNB, Security Bank)
Mary Grace – cakes & pastries
MPulse – gift shop
Seattle's Best – coffee & pastries (take-out)
1st Floor / Tower 1
2nd Floor Tower 1
Etiqa Philippines
Tapa King – restaurant
Japanese Helpdesk
3rd Floor CP Manahan / Tower 1
Banh Mi Kitchen
Subway
Pancake House – restaurant
1st Floor / Tower 2
Maxicare Outpatient
Krispy Kreme
Lavazza and Bakeshop – coffee & pastries (take-out)
3rd Floor / Tower 2 
6th Floor / Tower 2
Philippine Center for Diabetes Education Foundation, Inc. (PCDEFI)
Ground Floor / Tower 3
3rd Floor / Tower 3       
Café France Restaurant
Chicksrule
Figaro Coffee
Go! Salads
Hen Lin
Kitchen City (MakatiMed Cafeteria)
Nitro 7 Coffee & Tea Bar
Plato Wraps
Turks
Uncle John's
Umani Bistro
Chapel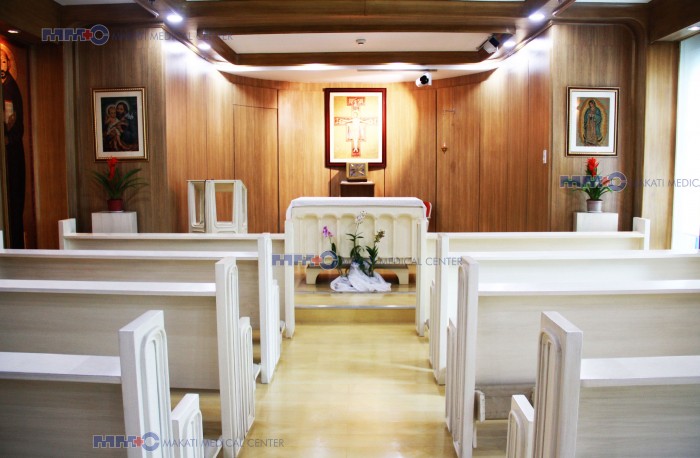 Mass Schedule is every day at 7:30 AM, 12 Noon and 4 PM from Mondays to Sundays