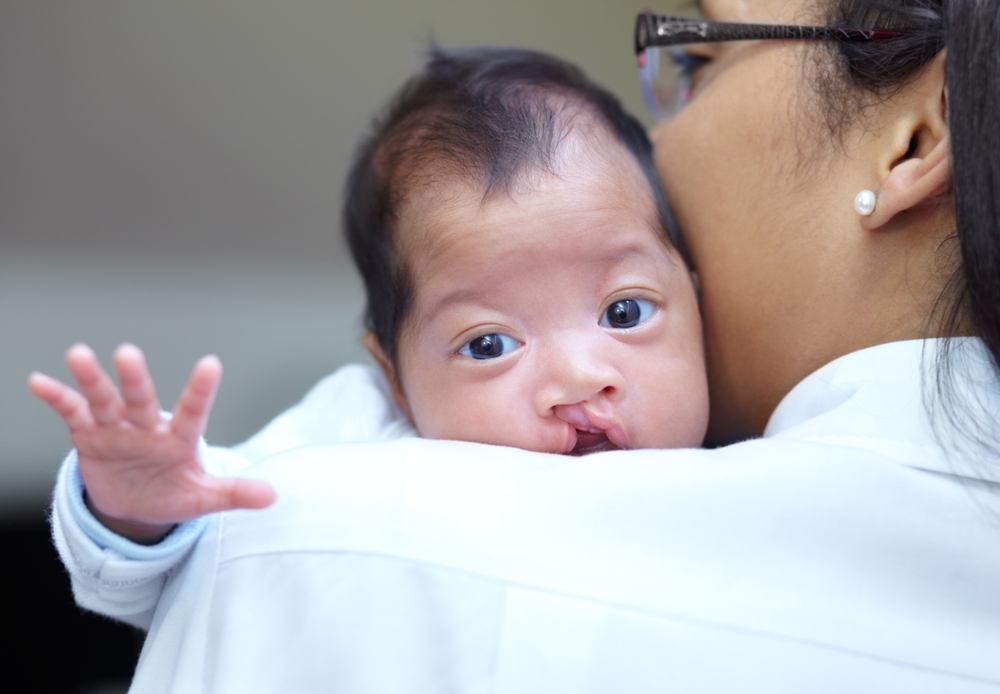 Many congenital conditions are out of a mother's control during pregnancy. For example, a child could be born with certain physical irregularities, including on the face, without known causes. The most relatively common congenital anomaly is a cleft lip or a cleft palate.
According to the Centers for Disease Control and Prevention (CDC), about one (1) in every 1,600 babies is born with cleft lip and palate in the United States. In the Philippines, there are two (2) congenital disabilities per 1,000 live births, showing that these conditions can happen randomly.
What exactly are cleft lip and cleft palate, and how do they happen? Let us start with a quick definition of these conditions.
What are a Cleft Lip and a Cleft Palate?
A cleft lip is a congenital defect in which the upper lip does not close completely during facial structure development. On the other hand, a cleft palate is where an opening or split on the roof of the mouth does not fuse together, leaving a split separating the two sides.
Cleft palates can vary in severity, from mild to severe, depending on how much tissue is missing from the roof of the baby's mouth. A mild case may require only minor surgery, while more severe cases may need multiple surgeries over time or even permanent reconstructive procedures such as dental implants or prosthetics.
Causes of a Cleft Lip and a Cleft Palate
Cleft lips and palates are congenital defects that are the result of the tissues of the mouth, lip, and palate not fusing to form properly while the baby is still developing in the womb.
The causes of cleft lip and cleft palate are largely unknown, but some factors include genetics, exposure of the pregnant mom to certain substances, and a lack of folic acid during pregnancy. 
Diabetes may be another factor, as women diagnosed with the condition have an increased risk of having a child with a cleft lip, and with or without a cleft palate. This is one of the reasons why sugar is typically monitored during pregnancy.
Problems Associated with a Cleft Lip and a Cleft Palate
Mothers must be able to provide their infants with an adequate amount of breast milk. However, when an infant has a cleft lip or palate, it may be difficult for them to latch onto their mother's breast. This can quickly cause them to become dehydrated and malnourished.
Ear problems are a common issue for individuals with cleft lip and cleft palate.
Cleft lip and palate can lead to hearing loss, ear infections, and even deafness. These issues result from altering the ear's anatomy from the clefting. In some cases, this can also affect the development of the middle ear, which is responsible for transferring sound waves into vibrations that travel to the inner ear.
Speech problems caused by cleft lip and palate can result from several issues, including the physical inability to make and hear certain sounds.
In addition to these speech difficulties, some children with the disorder may have trouble understanding language when they are young because they cannot hear themselves speak clearly enough to understand how their own voice sounds.
Dental issues related to clefts are typically due to an improper bite or alignment between the upper and lower teeth that cause them to grow in the wrong places. Left untreated, this can lead to gum disease and tooth decay because food particles get trapped between teeth instead of being removed by brushing.
Emotional and social problems
Emotional and social problems can stem from cleft lip and palate generally because of how the child looks. They may be teased or shunned by their peers. The ensuing blow to the child's emotions can lead to low self-esteem, which can have serious consequences in other areas of their lives.
Prevention and Treatment Options
Pregnant mothers must take folic acid and avoid smoking and drinking alcohol to prevent cleft lip and palate. They should also go to all prenatal checkups, maintain a healthy weight, and consult a physician before taking any medication.
Preventive measures during pregnancy are crucial to ensure the baby has all the nutrients they need for proper development. These will also help guarantee that there are no harmful chemicals in the bloodstream, including any medications that may cause congenital abnormalities in the child.
Surgical Treatment
The cleft palate surgical procedure called palatoplasty is done to lengthen the palate of a normal infant. But in the case of someone born with a cleft palate, this is not possible. If the cleft is at the soft tissue level, it is closed and stitched up to better match the normal side of the face.
For cleft lip treatment, surgical correction cheiloplasty is done. The surgeon will cut the length of the lip and stitch it together using absorbable sutures.
Prevention Before Necessary Attention
It is clear that prenatal care is critical to every expecting mother, and raised awareness can undoubtedly decrease the number of congenital abnormalities in newborns. 
At Makati Medical Center, we have everything expectant mothers need for a safe, healthy pregnancy, such as our state-of-the-art facilities and experienced doctors. The hospital also offers reconstructive surgery performed by the esteemed doctors of our ENT clinic. For more information, visit our website today.