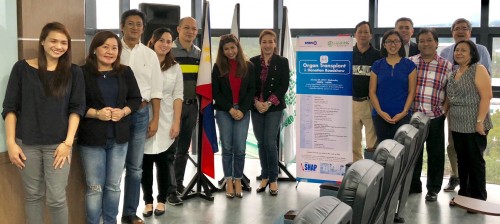 Makati Medical Center, in partnership with Lucena United Doctors Hospital and Medical Center through the Strategic Hospital Alliance Program (SHAP), held the "Organ Transplant & Donation Roadshow" on January 24.
 
The free symposium, featuring talks from MakatiMed's top experts in organ donation and transplantation was initiated to support the Organ Donation Program of MakatiMed, and to further enhance the SHAP hospital network for possible organ referrals.
 
Attended by doctors and nurses from Region 4A, it is the first in the series that will be hosted by SHAP in partnership with its SHAP hospital partners around the country.
 
"We would like this program with Lucena United Doctors to be the beginning of a series of fruitful discussions with our hospital partners regarding organ donation," says Arlyn L. Songco, Vice President/Division Head of MakatiMed's Marketing & Sales Services Division.
 
"We can leverage our network and our collective expertise to provide help to thousands of patients still waiting for a life-saving organ," she adds.
 
The attendees and speakers were welcomed by Jaimar R. Sapungan, MD, President of Lucena United Doctors Hospital and Medical Center.
 
Featured in the "Organ Transplant & Donation Roadshow" were Leo Carlo Baloloy, MD, Peripheral Vascular Surgeon ("Burden of CKD/ESRD [Chronic Kidney Disease/End-Stage Renal Disease] and Treatment Options"); D. Darwin A. Dasig, MD, FPNA, Section Chief, Neurology ("Concept of Brain Death"); Adolfo C. Parayno, MD, FPCS, FPSTS, Transplant and Vascular Surgeon ("Deceased Organ Donation When Does "Switch The Button" Trigger the Process to Harvest, Maintain and Implant"); and Helen Rose R. Tennberg, RN, Organ & Tissue Donation Coordinator ("Future Direction of MakatiMed: How to Organize an Organ Procurement Organization (OPO), Role of Creating a Network").
 
The lectures were followed by a Q&A and closing remarks delivered by Dante P. Dator, MD, MakatiMed's Director of Professional Services.