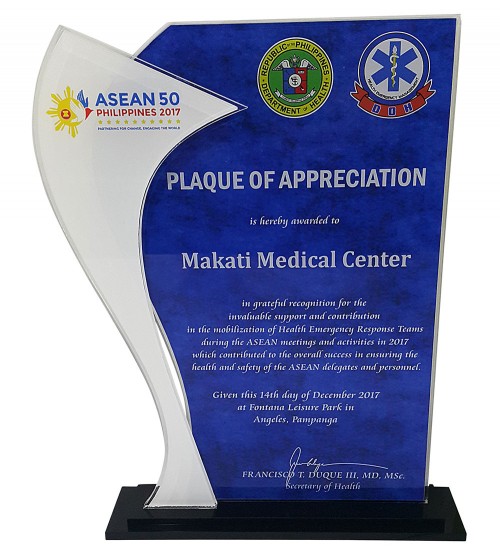 Makati Medical Center received a plaque of appreciation for its invaluable support and contribution in the mobilization of Health Emergency Response Teams during the ASEAN meeting and activities in 2017.

The awarding ceremony, with the theme "One Nation, One Response", was held at Fontana Leisure Park in Angeles, Pampanga on December 14, 2017.
 
Keynote speaker Undersecretary of Health Herminigildo V. Valle, MD, commended the health professionals for their dedication and hard work, their quick response during emergencies, and their resilience in disasters. Likewise, he recognized the healthcare professionals, the healthcare institutions, volunteers, and private partners who he said are the unsung heroes of the nation.
 
The 31st ASEAN Summit was held on November 12 to 14, 2017. Makati Medical Center's Emergency Department attended to seven (7) delegates. Makati Medical Center has been a partner hospital of the ASEAN for several years and is the preferred hospital of most Heads of State.