Continuing its commitment to comprehensive and cutting-edge diagnosis and treatment, Makati Medical Center recently inaugurated its Vascular & Lymphedema Center.

The MakatiMed Vascular & Lymphedema Center offers a comprehensive array of healthcare services focused on the diseases and conditions of the peripheral vascular and circulatory system involving the arteries, veins, and lymph nodes.

Conditions include lymphedema, or fluid buildup and swelling in the arms and legs; Peripheral Artery Disease (PAD), or the narrowing of the arteries in the peripheral circulation; Deep Vein Thrombosis (DVT), which occurs when a blood clot forms in one or more of the deep veins in the body; Abdominal Aortic Aneurysm, or ballooning of the wall of a blood vessel in the aorta, which runs from the heart through the center of the chest and abdomen; and varicose veins.

These conditions are more prevalent in high-risk patients, such as those who are obese, older than 50 years old, or those with diabetes, hypertension, or who register high cholesterol levels.

The Center is headed by cardiologist and concurrent Chairman of MakatiMed's Department of Medicine, Noel L. Rosas, MD. "This center allows a multidisciplinary team to focus on interrelated conditions affecting more or less the same patient population treated in the same state-of-the-science facility," Dr. Rosas says.

"The Vascular & Lymphedema Center is also housed in a safe hospital environment where optimal healing can occur and where there is immediate support in case of emergencies," says Maribeth G. Mendoza, RN, who handles the Center's administrative and operations side.
 
"This ensures that our patients are in good hands and will be provided with all their needs in their journey to recovery," Dr. Rosas adds.

The Vascular & Lymphedema Center is located at the 1st Floor, Tower 1 of Makati Medical Center and receives patients Monday to Friday, from 8:00AM to 5:00PM. For more information, contact the Center through 8888 999 local 7149, email [email protected], or visit www.makatimed.net.ph.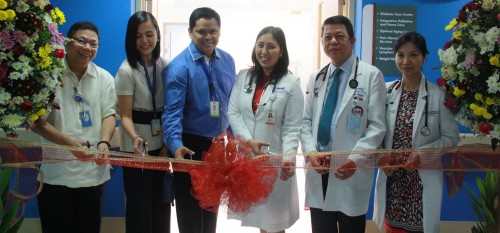 Makati Medical Center opens its Vascular & Lymphedema Center. L-R: Johnny B. Sinon, MD (Medical Director); Marielle Mendoza-Rubio (Division Head, Service Operations); Arnold C. Ocampo (Chief Finance Officer/Division Head, Finance); Mari Joanne G. Joson, MD (Head, Integrative Palliative & Home Care); Noel L. Rosas, MD (Chairman, Department of Medicine and Head of Vascular & Lymphedema Center); and Jasmine Melissa B. Bernardo, MD (Vascular Medicine Consultant)