In line with the celebration of World Hepatitis Day every July 28, the Employee Health & Wellness Clinic (EHWC), headed by Rosemarie B. Cabujat, MD, held a lay forum highlighting Hepatitis B at the 8th Floor Tower 2 Auditorium. 
 
The lay forum and Q&A were conducted by Eternity D. Labio, MD, Hepatologist from the MakatiMed Liver Unit. The event was well-attended by around 100 MakatiMed doctors, fellows, residents, nurses, and other employees.
 
The EHWC also offered free hepatitis B screening, and received 340 screening registrants.
 
"Hepatitis B and C are viruses notorious for causing liver damage leading to cirrhosis and liver cancer," Dr. Labio said. An estimated 257 million people worldwide are infected with Hepatitis B. This "global killer" causes 800,000 deaths every year.  In the Philippines, "one in 7 adults are infected," she said. 
 
Most are unaware that they are infected, she added. The most common way of getting infected is through mother-to-child transmission during childbirth, and exposure to contaminated blood and body fluids (such as occupational exposures in the healthcare setting and unprotected sex). 
 
To protect yourself and your loved ones from these silent killers, Dr. Labio urged the participants to be tested for hepatitis B through a simple blood test (HBsAg and anti-HBs) and to be vaccinated.
Eternity D. Labio, MD, Hepatologist of the MakatiMed Liver Unit (left), gives a talk on Hepatitis B on World Hepatitis Day, July 28, 2017.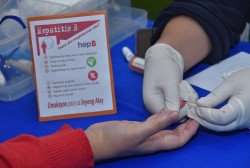 Employee Health & Wellness Clinic offers free hepatitis B screening during World Hepatitis Day.