Makati Medical Center patients and guests were treated to a supercharged Saturday on September 24, when characters from Avengers and Justice League dropped by to pose for photos and say hello to pediatric patients.

Nearly 200 hospital guests, some of whom dressed up as their favorite characters from the Marvel and DC comics and movies, posed with the superheroes at MakatiMed's Main Lobby in Tower 1.

This was a follow-up to MakatiMed's successful Star Wars event in March, in partnership with the 501st Legion, an international fan organization that promotes building and wearing "movie-quality, screen-accurate" Star Wars costumes. The members also raise money for charity.

The Justice League PH and Avengers PH groups were led by Manny Mendoza, who is also Commanding Officer of the 501st Legion. He was Darth Vader in MakatiMed's Star Wars event, and donned the Dark Knight costume on September 24.

"The 501st Legion in the Philippines has close ties with other fan-based organizations also like these superhero teams," he said, and expressed his thanks to MakatiMed.

Manny's team dressed up as the Avengers' Captain America, Antman, Falcon, Iron Man, Black Widow and Spiderman, teaming up with the Justice League's Superman, Supergirl, Batman (in gray), Flash, and Dark Knight Batman (in black).

The Avengers and Justice League then made the rounds to visit pediatric patients in their rooms and wish them a speedy recovery.
All children received special loot bags from MakatiMed.

 "We set up this special event to bring fun and warmth to our hospital, which can feel like a frightening and intimidating environment, especially for our young patients," shared Arlyn L. Songco, Vice President for Marketing & Sales Services.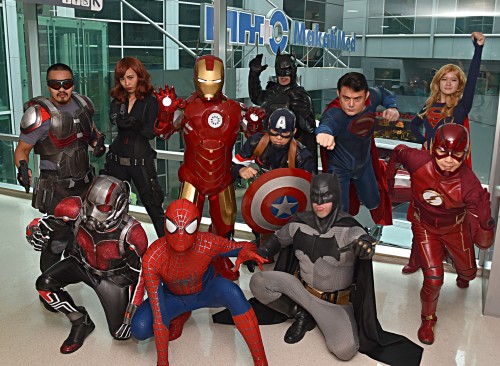 Superhero teams Avengers and Justice League at Makati Medical Center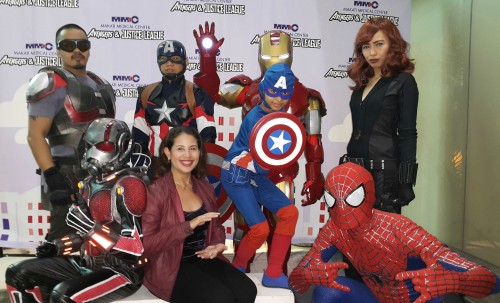 Hospital guest and employee dressed as Captain America and Scarlet Witch, respectively, pose with the rest of the Avengers.