Makati Medical Center introduced its new Medical Director, Johnny B. Sinon, MD, to media partners in a media session held on October 12 at the 6th Floor Tower 3 Boardroom.
Also in attendance were President & CEO Rosalie R. Montenegro, Division Head for Marketing and Sales Services Arlyn L. Songco, and Cellular Therapeutics Center Co-Director Francisco S. Chung, Jr., PhD.
Dr. Sinon will serve as full-time MakatiMed Medical Director for three years from 2016 to 2018, handling a total of 2,316 staff, and overseeing clinical units, including Medical Services, Medical Education, Hospital Accreditation, Patient Relations and Clinical Support Services.
"One of my top priorities is to closely support our President and CEO Rosalie R. Montenegro and our doctors and medical staff, as well as contribute to charting the strategic plan of MakatiMed to ensure its growth and expansion, and retain its leadership in the Philippine healthcare industry," he says.
Dr. Sinon has 32 years of service in MakatiMed, including four years of residency. A graduate of the University of Sto. Tomas, Dr. Sinon has also taken units on Hospital Administration from the Ateneo Graduate School of Business.
With a wealth of clinical experience in Emergency Medicine, he has held leadership positions in MakatiMed through the years. Dr. Sinon was Head of the Department of Emergency Medicine from 2005 to 2014. Prior to his appointment as Medical Director, he served as president of the Medical Staff Association (MSA) and Head of the MMC HealthHub.
He also served as Medical Director of International SOS (Philippines) Inc., a global medical and travel security assistance organization operating in 93 countries with 850 locations.
In the plans for Dr. Sinon's term are a line-up of new projects. His goals include the strengthening of the hospital's research projects and residency training program, the offering of regenerative medicine, which is a growing medical trend, and collaborating with academic institutions for the research programs.
"We will continue ensuring that we deliver the best medical care to our patients," he adds. "The focus will always be on providing quality and safe healthcare for all."
The hospital's corporate social responsibility remains a priority for the Medical Director. Along with continuing the medical missions, Dr. Sinon hopes to strengthen and rationalize MakatiMed's Health Service Program, its charity program for indigent members of the community.
Dr. Sinon is working towards all these while continuing part-time clinical practice during off-hours, in order to keep up with current medical practice.
"At the end of my term as Medical Director, I envision Makati Medical Center to be top-of-mind for everyone needing world-class healthcare of international standards," he says.
For more information, please contact MakatiMed On-Call at +632.8888 999, email [email protected], or visit www.makatimed.net.ph.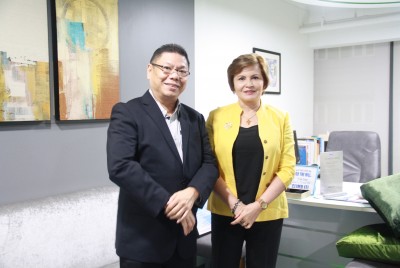 Medical Director Johnny B. Sinon, MD, and President & CEO Rosalie R. Montenegro.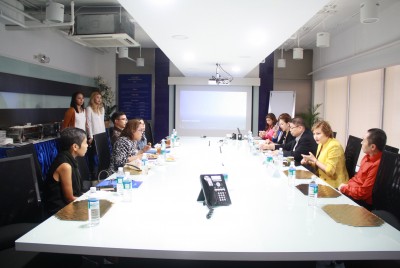 Dr. Sinon discusses his plans for his term at a media session held on October 12 at the 6th Floor Tower 3 Boardroom. Also in attendance were President & CEO Rosalie R. Montenegro, Division Head for Marketing and Sales Services Arlyn L. Songco, and Cellular Therapeutics Center Co-Director Francisco S. Chung, Jr., PhD