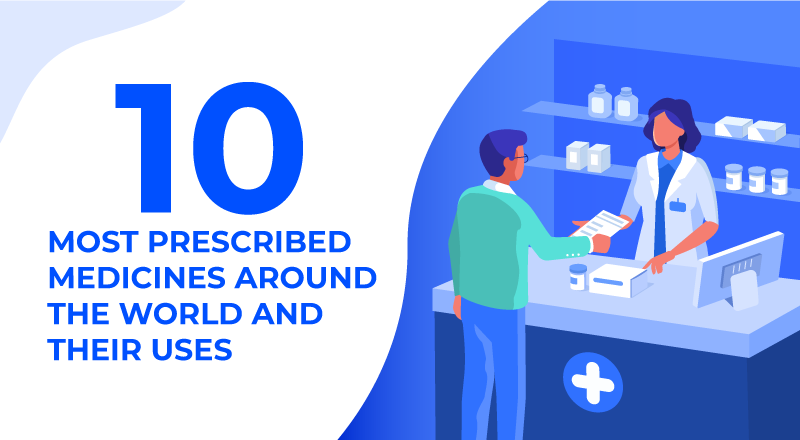 Medicines and the process of combining ingredients to treat conditions have long been a part of human history, dating back to ancient Mesopotamia, as evidenced by the cuneiform clay tablets. The ancient materials describe the process of making salves (ointment) and other concoctions using various ingredients like plant and animal parts combined with odd rituals to provide cure or relief for various ailments.
Modern medicine production has far progressed from dissolving snakeskin into milk. Today, pharmaceutical companies play a vital role as they produce safer and more effective drugs for human consumption. In fact, with the help of modern medicine, the life expectancy of people worldwide has increased collectively in just 65 years.
Apart from that, prescribed and over-the-counter medications have become more accessible to the public with the proliferation of pharmacies and other dispensaries worldwide, including online availability.
Indeed, no one can deny the importance of medicines, including prescription medication. Below is a visual graph on prescription medicines and how to use them properly.

What is a prescription or prescribed medicine?
Prescription medicines are medications aimed to target specific symptoms or illnesses, which require physician care and/or supervision. Doctors use prescriptions to prevent drug misuse, such as over usage, re-selling, or replication, and are often required when purchasing at a pharmacy or dispensary.
10 Commonly Prescribed Medicines from Around the World
1. Hydrocodone
Hydrocodone was first patented in 1923, with the long-acting formulation being approved in 2013. It is widely known as the active ingredient for prescription pain relievers.
Hydrocodone is usually prescribed as a last resort because it can lead to addiction. Because it is addictive, the drug is subject to a written controlled prescription from a doctor every time it has to be filled.
Hydrocodone, along with homatropine, is used to relieve cough. Hydrocodone is a narcotic antitussive or a cough suppressant, acting directly on the brain's cough center for relief.
2. Metformin
It is a prescribed medicine used to treat type 2 diabetes and even prevent it if someone is at a high risk of developing the disease by lowering blood sugar levels.
The drug was proven useful in treating influenza when it lowered blood glucose levels in the 1940s. This was further studied by French physician Jean Sterne and was first to report metformin to treat diabetes in 1957.
Metformin is best taken with a meal to reduce its side effects.
3. Losartan
It is used to treat high blood pressure by blocking a substance in the body that causes the blood vessels to tighten. This is taken in tablet form, according to the doctor's prescription.
Losartan also lowers the risk of stroke in patients with high blood pressure and cardiomegaly or enlarged heart. Type 2 diabetes patients and those with a history of hypertension also take it to address kidney problems.
4. Antibiotics
These are prescribed medicines that fight off bacterial infections. First discovered in 1928 by Alexander Fleming, this drug kills bacteria and eradicates them from the body. Viral infections like colds, runny noses, most sore throats (except strep throat), flu, and bronchitis cannot be treated with antibiotics.
When not needed, misused, or not fully used according to prescription, antibiotics can do more harm than good and produce side effects.
5. Albuterol
This medicine prevents and treats breathing difficulties, wheezing, coughing, and other related conditions caused by lung diseases like asthma. It relaxes the air passages and opens them up to make breathing easier. Albuterol is usually taken orally using a special jet nebulizer or an inhaler.
6. Antihistamines
These are commonly used to treat allergies and symptoms such as sneezing and rashes. Allergies happen when the body reacts to a "foreign substance" and activates its defense mechanism, including histamine The drugs are also used to treat various conditions such as colds, stomach problems, and anxiety.
7. Gabapentin
It is an antiepileptic/anticonvulsant drug used with other medications to prevent and control seizures. It is taken orally with or without food. Doctors would usually prescribe the patient to take it regularly to maximize its benefits. Patients are also advised to stop taking gabapentin only with a doctor's approval.
8. Omeprazole
This medication is usually prescribed to someone experiencing gastroesophageal reflux disease (GERD) and erosive esophagitis. GERD is a condition where too much acid is in the stomach, causing symptoms such as belching or burping, heartburn, indigestion, and even flatulence (farting). It is omeprazole's job to reduce the acidity in the stomach and help heal the esophagus and stomach from acid damage.
9. Levothyroxine
It is used to treat an underactive thyroid gland condition called hypothyroidism. Thyroid hormones are essential to the body's every cell and organ because they regulate the rate at which calories are burned, affecting both weight loss and weight gain.
Thyroid hormones also regulate the heartbeat, control the way muscles contract, and influence the rate of how fast dying cells are replaced. Levothyroxine is taken to make up or replace the missing thyroid hormone called thyroxine.
10. Atorvastatin
This is prescribed to reduce the risk of a heart attack. This drug is also used to decrease the chances of undergoing heart surgery. Moreover, atorvastatin is used to lower the levels of fatty substances like low-density lipoprotein (LDL) or bad cholesterol and triglycerides in the blood with the goal of increasing the good cholesterol or high-density lipoprotein (HDL).
Know Your Prescription Medicines
The world has been dealt with various diseases throughout human history. Fortunately, science has come a long way from grinding powders and mixing liquids. We now have access to more effective medicines and advanced medical technologies. Treating patients has never been more effective.
While most illnesses have a complementary treatment method, they can only be properly addressed if diagnosed correctly. So, always consult with a licensed physician before taking any medication to safely benefit from the prescription.
Reach out to Makati Medical Center for treatment through its world-class healthcare facilities, including pharmacy services that provide inpatient and outpatient-oriented services, medication, drug preparation and administration, and the provision of drug information.