The Makati Medical Center Institutional Review Board (MMC-IRB) in cooperation with the Medical Education and Research Division (MERD) held a seminar/ workshop on Research Protocol Evaluation on July 8, 8 AM to 3 PM at the Medical Education Training Room. The objectives of this seminar were – to standardize technical review of research proposals, to enhance the scientific soundness of protocols and to guide/ assist research committees/coordinators and training program officers in the technical evaluation of protocols – using the MakatiMed Research Protocol Evaluation Form or REFORM.
This pioneering activity sought to enhance the capacity of the individual research committees of the different sections and departments to assess the scientific merits of protocols initiated by trainees, consultant staff, and other hospital staff before they are submitted to the MMC-IRB for ethics review.
The seminar started with the Welcome Remarks and Seminar Overview by Saturnino P. Javier, MD MMC-IRB chair. The morning speakers were Venus Oliva Cloma-Rosales, MD, Managing Director, 101 Health Research, who spoke on both the "Formulation of Research Question and Study Objectives" and "Research Protocol Designs and Methodologies: Identifying the Flaws and Their Ethical Implications."
Crystal B. Gonzales, Research Statistician, 101 Health Research, gave a lecture on "Statistical Analyses: The Basic Essentials."
Sonia E. Bongala, MD, MakatiMed MERD Director, discussed "Ensuring Research Ethics among Trainee-Initiated Protocols: The Key Elements" while Rodmar C. Pulido, Head of the MakatiMed Clinical Research Center, presented the "Elements of the Informed Consent Form and Process."
The afternoon session consisted mainly of interactive workshop by participants who applied the REFORM tool on several trainee-initiated investigations. 
The following attended the seminar/workshop:
Jackson U. Dy, MD (Chairman, Department of Radiology)
Mercedes P. Viduya, MD (Obstetrics & Gynecology)
Maria Regina P. Manahan, MD (Obstetrics & Gynecology)
Christine V. Pascual, MD (Nephrology)
Andrei Rhoneil M. Rodriguez, MD (Rheumatology)
Joseph Dale R. Gutierrez, MD (Pediatric Pulmonology)
Rosario M. Cloma, MD (Anesthesiology)
Minerva M. Laconico, MD (Emergency Department)
Victoria C. Sarmiento, MD (Otorlaryngology)
Dennis V. Doromal, MD (Section Head, Section of Radiation Oncology)
Kathleen H. Baldivia, MD (Radiation Oncology)
Lovie Hope O. Go-Chu, MD (Psychiatry)
Blaise K. Liao, MD (Ultrasonography)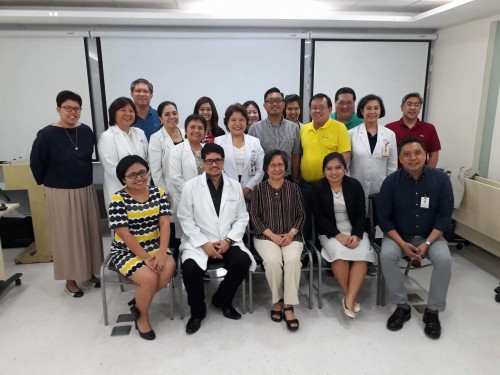 The speakers and participants of the MMC-IRB REFORM Seminar & Workshop.