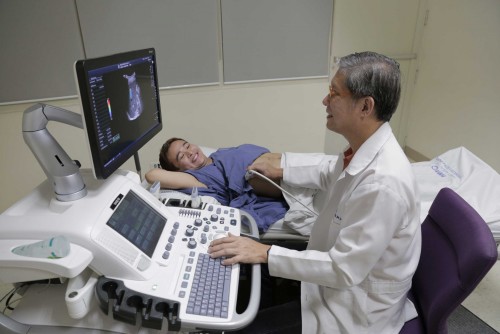 The liver is the largest internal organ in our body and plays a vital role in maintaining the body's basic functions, including clearing the blood of harmful substances such as drugs, alcohol, and other toxic substances. Like any other organ, the liver is also vulnerable to disease, such as fatty liver, hepatitis B, hepatitis C, liver cirrhosis and liver cancer.
Most liver cancers among Filipinos are caused by a virus called Hepatitis B. Hepatitis B affects 1 in 7 Filipino adults and is considered a major public health problem in the country. Get yourself tested and vaccinated. Aside from hepatitis B, infection with the hepatitis C virus, fatty liver associated with diabetes and high cholesterol, and excessive alcohol consumption can also cause liver damage and place you at risk for developing liver cancer.
Detection of early liver damage is now possible through the ultrasound shear wave elastography and the LiverFast (Fibrotest). These are simple and painless tests that can detect the presence or absence of liver fibrosis (scar in the liver) from any cause even before symptoms develop.  The presence of significant fibrosis is important in staging liver disease, in identifying the need and urgency for treatment, and identifies those at risk of developing liver cancer. 
Shear wave elastography is performed through an ultrasound machine and can be done each time a patient requests for an ultrasound of the whole abdomen.  On the other hand, the LiverFast or Fibrotest is a blood test that measures serum biomarkers of liver fibrosis, inflammation and steatosis (liver fat).
"The liver is a silent worker. Most liver diseases produce no symptoms and most patients feel normal and healthy. Early detection is therefore important before it's too late," says Hepatologist Dr. Eternity D. Labio of the MakatiMed Liver Unit. "Fatty liver associated with diabetes and high cholesterol is now being recognized as a growing cause of liver damage leading to liver cirrhosis and liver cancer. We are now seeing more and more patients with liver cirrhosis who are not alcoholic drinkers but have long-standing fat in their liver," she adds.
The elastography procedure is done at the Ultrasound Section of the Department of Radiology, while LiverFast or Fibrotest is through a blood extraction done at the Pathology & Laboratories. These tests are requested based on a doctor's recommendation.
MakatiMed's Liver Unit is located at the 2nd Floor Tower 2 of the Makati Medical Center. For more information, please contact MakatiMed On-Call at 8888 999 locals 3211 to 3215, email [email protected], or visit www.makatimed.net.ph.