Makati Medical Center's Strategic Hospital Alliance Program (SHAP) held an event as part of its road show program, featuring the Department of Neurological Sciences. The forum, entitled "NeuroSciences Subspecialties Made Easy" and held on November 25 at the Mira de Polaris Hotel in San Nicolas, Ilocos Norte, was co-presented by Ranada General Hospital, one of the SHAP partners in the Ilocos Region.

The event was attended by medical practitioners from the Ilocos Region. Jason B. Ranada, MD, former Neurosurgery resident of MakatiMed and whose family owns Ranada General, welcomed the guests and introduced SHAP. He also discussed the advantages for provincial hospitals of having a partnership with MakatiMed.

SHAP was launched in 2010 and is managed by the hospital's Marketing and Sales Services Division. The program is geared toward sharing MakatiMed's services to the rest of the country by establishing partnerships with hospitals, clinics and facilities located in other cities and the provinces across the Philippines. It has also partnered with several individuals and company providers engaged in the referral business for health services abroad to help reach Filipinos and foreigners needing world-class compassionate medical care. 

Perry N. Noble, MD, introduced the MakatiMed Department of Neurological Sciences and its subspecialty clinics: Functional Neurosurgery, Neuropsychology, Mood and Anxiety Resource and Referral Center (MARRC), and Movement Disorders.

MakatiMed's doctors discussed the following: "Basics on Parkinson's Disease & Movement Disorders" by Cid Czarina E. Diesta, MD; "Pacemaker in the Brain for Movement Disorders" by Jean Quint L. Oropilla, MD; "Addressing the Needs of Persons with Dementia" by Darwin A. Dasig, MD, Head, Section of Neurology; "The Neuro Psychological Assessment: A Window to the Mind" by Lourdes K. Ledesma, MD; "A Primer on Mood & Anxiety Disorders" by Carmina G. Bernardo, MD;  and "Assessment & Management of General Psychiatric Disorders" by Marife Mararang, MD, Chief Resident, Section of Psychiatry.

Also present were representatives from MakatiMed's Marketing & Sales Services Division, Mary Ann B. Lee, Department Manager, Sales Services, and Shieyl L. Aranas, Department Manager, Promotions, Communications & Special Projects.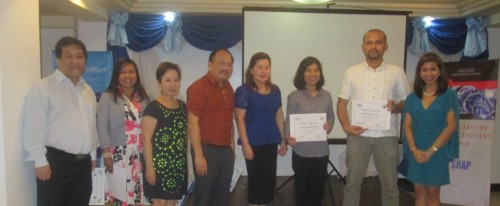 "NeuroSciences Subspecialties Made Easy" was held on November 25, 2016 at the Mira de Polaris Hotel in San Nicolas, Ilocos Norte, co-presented by Ranada General Hospital.