By Joshua Jaime P. Nario, MA, RN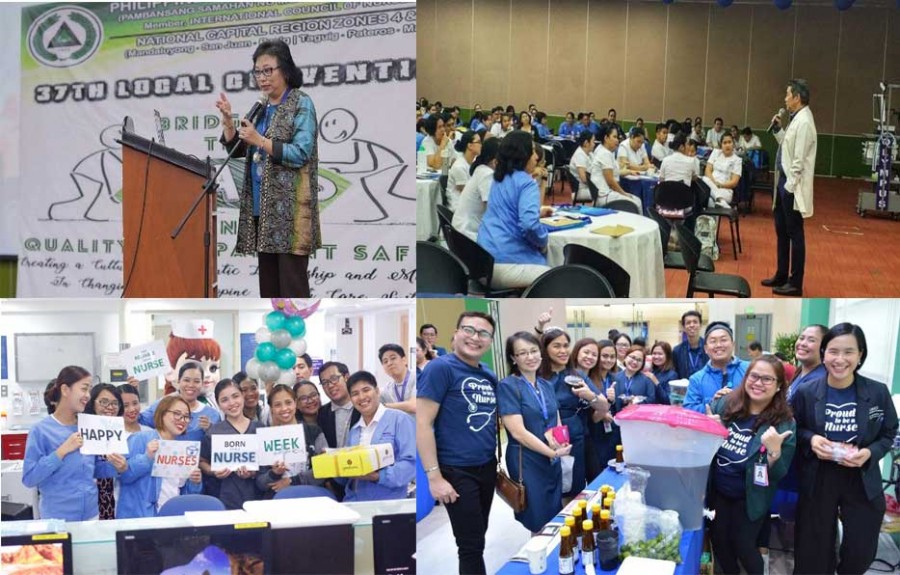 The Nursing and Patient Care Services International Nurses Week Celebration 
The Nursing & Patient Care Services joined the global nursing community in observing the 2018 International Nurses Week with the theme "Nurses Inspire, Influence, Innovate". The week-long celebration was held in May at the 8th Floor Tower 2 Auditorium. The celebration was marked with several educational sessions, nursing job fair, bazaar and fun events for the nurses and guests.
 
The International Nurses Week officially commenced with the Opening Ceremony attended by nurses from all nursing units, corporate heads and clinical leaders. Daryl Jeremiah R. Gaba MAN, RN (Assistant Director, General Nursing Services) gave the welcome speech recognizing the significant role of nurses and the value of honoring their achievements towards quality patient care. 
 
A message from Johnny B. Sinon, MD, Medical Director, followed. "This is a good opportunity to recognize the contribution of the nurses in educating the public and the vital role they play in our healthcare," said Dr. Sinon. He also expressed his thanks to the nurses for making MakatiMed great because of their brand of care and malasakit for our patients.
 
The inspirational message was delivered by Christine A. Donnelly, EDL, MSN, MA, RN, Chief Nursing Officer & Vice President for Nursing & Patient Care Services.  "Nursing is a special blend of medicine and personal magic touch. Thanks to you all for your valuable contributions. We are leaders in quality, innovative health care." said Ms. Donnelly.
 
Simultaneous with the ceremony, the 7th Nurses' Open Day Program was held. The activity is a one-day one-stop-shop hiring process for aspiring applicants to join the top-notch nursing achievers of Makati Medical Center.
 
Appreciating all Nurses for the Care and Hard Work
 
The celebration continued with the Nursing Skills Fair which provided an avenue for nurses to learn new healthcare technologies.
 
The three-day Nursing Bazaar, a tradition during the Nurses Week, showcased entrepreneurial engagement of Registered Nurses as it featured various stalls offering homemade delicacies, gourmet dishes, unique products, and merchandise for all visiting consumers.
 
On Nurses Appreciation Day, nursing staff across the hospital were recognized for their hard work and dedication in rendering care for patients.
 
Celebrating through Continuing Education

The Medical and Surgical Intensive Care Units, together with the Cardiac and Neuro Services of the Nursing and Patient Care Services, conducted the Critical Care Nursing Grand Rounds with the theme "Current Trends in Critical Care Nursing: Nutrition and Hemoperfusion Clinical Management."
 
Program sessions highlighted "Updates on Critical Care Nutrition" by Maricar Esculto-Khan, MD, MMC Internist – Clinical Nutrition Physician; "Understanding the Principles of Hemoperfusion" by Eladio Miguel Peñaranda, Jr., MD, MMC Nephrology Consultant; and "Enhancing Competencies in Handling Critical Patients: Back to Basics Review Nursing Concepts" by Maureen P. Santiago, RN, MAN, Medical Surgical Intensive Care Unit Nurse Manager.
 
The Nursing Quality Department hosted the 1st Nursing Quality Forum, an initiative supporting all nurses in the promotion of the importance of quality improvement, focusing on identifying sub-optimal processes in nursing practices, and changing them to reduce defects.
 
A total of 12 continuous quality improvement projects were presented during the session from all clinical nursing departments.  The final presentation and competition will be held on October 2018.
 
The week's celebration officially closed with the 5th Nursing Lecture Series with the theme "Clinical Trends in the Care and Management of Hypertension."
 
Lectures included "Clinical Strategies and Updates in Hypertension" by Rod T. Castro, MD, FPCP, FPCC, MMC Cardiology Consultant; "Managing Patient with Gestational Hypertension" by Romeo T. Mendoza, MD, MMC OB-GYN Consultant; "Blood Pressure Assessment, Physiologic Recognition and Patient Education" by Juan Miguel A. Velasco, RN, MAN, Medical Surgical Intensive Care Unit Nurse Manager; and "Anti-Hypertensive Medication: Nurses Must Know" by Erika Macairan, RN, Cardiovascular Telemetry & Recovery Room Nurse Manager.
 
Ms. Donnelly shared updates regarding care management of hypertensive patients. "It is also important to practice applying patient-centered multidisciplinary approach in caring for hypertensive patients," she said.
 
Nerissa Lagarico, MAN, RN, Clinical Department Manager of Maternity and VIP, closed the Nurses Week celebration by reminding everyone that MakatiMed nurses continue to protect, promote, and improve the health care of all patients and their families. 
 
The Nursing Exhibit, displayed at the Main Lobby, featured the Divisions' successes in inspiring people, innovating practices, and influencing others through professional excellence.