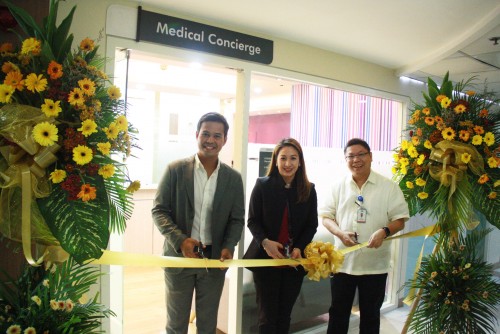 Makati Medical Center inaugurates the Medical Concierge. L-R:  Miguel G. Mallillin, Business Development Manager, Aspire Lifestyles;
Arlyn L. Songco, Division Head, MakatiMed Marketing & Sales Services Division; Johnny B. Sinon, MD, MakatiMed Medical Director.
Makati Medical Center bolsters its position of providing top-notch patient experience with the inauguration of its Medical Concierge. Located at the 1st Floor of Tower 1, the full-service concierge facility is created to deliver medical-related and lifestyle assistance services for MakatiMed's local and international patients.

"We have always prided ourselves on putting the patient's needs front and center," says Rosalie R. Montenegro, MakatiMed President & CEO. "The creation of the Medical Concierge further ensures that patients and their guests are comfortable, from the moment they step inside MakatiMed until they return home or arrive at their destination."

"We recognize that most patients have needs beyond their medical concerns while admitted, and that these needs may be harder to obtain in a hospital setting," says Arlyn L. Songco, Division Head, Marketing & Sales Services. "With the Medical Concierge, patients and guests can look forward to assistance for a gamut of requests, from basic appointment setting or explanation of medical procedure packages, to exclusive needs such as private dining arrangements, travel-related requests, or even personal shopping."

The MakatiMed Medical Concierge can assist in the following requests:
Basic Services-Coordination with International Insurance Agencies; Assistance for Admission & Discharge; Request for Medical Records, Results, Medical Prescriptions; Referral and Appointment Setting with Medical Consultants and Centers for Diagnostic Procedures; Airport Transfers and Language Translation
Corporate Services-Assistance for Letter of Authorization or Guarantee (LOA or LOG) Issuance & Clarification; Medical Package Inquiries; Referral to Accredited Consultants
Business Center Services-  Internet and Telephone Use, Printing, Photocopying, Facsimile, Scanning, and Lamination
MakatiMed has also partnered with renowned lifestyle company Aspire Lifestyles to bring healthcare and lifestyle together for the comfort, safety, and luxury needs of patients and guests, fulfilling even those requests deemed "beyond the possible". Following are some of the premium services available (fees may apply):
Travel – In ocular & VISA Requirement Information, Trip Planning & Assistance (Flights, Cruise, Yatch, Hotels & Transfers), Luxury Car Reservation, Airport Lounge Access, Travel & Destination Recommendations, etc.
Wine & Dine-Dining Reservation, Private Dining Arrangement, Food Tasting
Arts & Culture-Special Events & Performance Arrangement, Information & Referral to Cultural Centers, Museums, Art Gallery and Exhibition.
Shopping-Personal Shopping, Flower & Gift Delivery, Referral & Assistance on Jewelry, Watches, Arts, Antiques, Shopping Malls with Location, Spa, Fitness Center, Tailoring, etc.
Other Miscellaneous Needs-Pet Care, Grooming Transportation; Laundry Services, Home Grocery Delivery, Massage & Aromatherapy, Event Planning, etc.
"We welcome all of our patients and hospital guests to visit our Medical Concierge for their special needs while inside our institution," says Ms. Montenegro.

The MakatiMed Medical Concierge is open Mondays to Fridays, from 8:00AM to 7:00PM, and Saturdays, from 8:00AM to 5:00PM. For more information, please contact 8888 999 local 7193 or email [email protected].