By: Noel Aypa, MD, Department of Anesthesiology
Makati Medical Center's Department of Anesthesiology, headed by Rosario M. Cloma, MD, held its first Postgraduate Course titled "Multidisciplinary Approaches Using Ultrasound for Anesthesia" on May 15 with locally and internationally renowned anesthesiologists and ultrasound experts serving as lecturers.
The postgraduate course, held at the 8th Floor Tower 2 Auditorium, was designed to open the eyes of anesthesiologists to the many possibilities of ultrasound use as a very important point of care tool in the management of patients.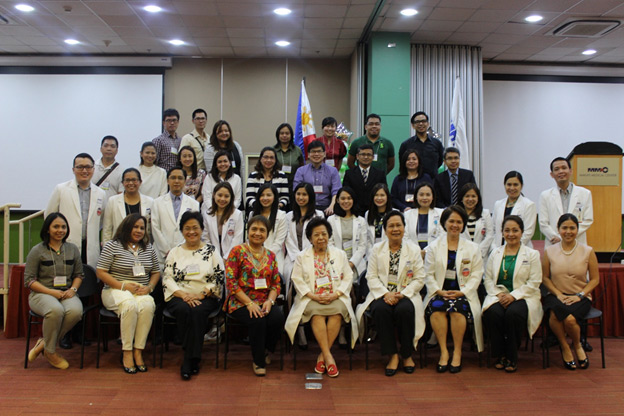 Anesthesiology Postgraduate Course lecturers and participants.
The course opened with "The Ultrasound Machine Knobology, What Buttons to Press" by Ramon T. Reyles, MD (Obstetrics & Gynecology), followed by Dedi Fitriyadi, MD (Anesthesiology) with his lecture "Basic Ultrasound-Guided Peripheral Nerve Blocks". Dr. Fitriyadi was an anesthesiologist from Bandung, Indonesia who acquired training in the Netherlands.
Maria Dolma G. Santos, MD (Anesthesiology), a pain management expert, talked about "Common Ultrasound-Guided Pain Management Procedures". Franklin SP. Domingo, MD (Physical Medicine & Rehabilitation) discussed "Common Ultrasound-Guided Musculoskeletal Interventions, An Overview".
Jeffrey L. Chua, MD (Surgery) gave valuable tips on acquiring and establishing vascular access, or the insertion of a catheter into a blood vessel to allow blood to be drawn from or medication to be delivered to a patient's bloodstream over an extended period. Noel S. Aypa, MD (Anesthesiology) discussed "Ultrasound of the Airway, The Tip of the Iceberg".

The lectures were followed by a workshop featuring ultrasound scanning of live models.
The lectures were followed by a workshop featuring ultrasound scanning of live models, with workshop coordinators Michael Ronald B. Madarang, MD, Mae Anne J. Tabberrah, MD, Ma. Nathalia N. Montemayor, MD, and Nadine G. Abela, MD.
The course received positive feedback, with participants describing the event as "intellectually satisfying".