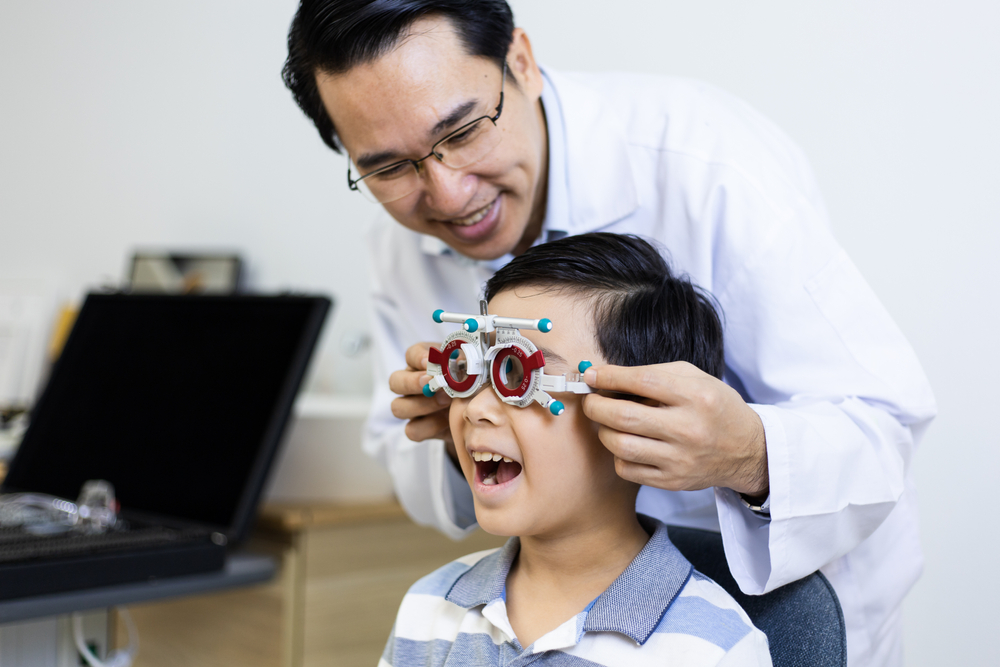 Refractive errors are common eye disorders that prevent you from seeing clearly due to the shape of your eye. They are a burden to everyone and the World Health Organization (WHO) estimates that there are 153 million people with visual impairment due to refractive errors not being corrected with eyeglasses.
 
Children, in particular, are vulnerable to the effects of this condition and may prevent them from performing well in school. Worse, refractive errors usually go undetected among children as they may not complain of blurring of vision. It also does not help that because of the pandemic, parents are not able to bring their children to an eye doctor for proper vision screening and prescription of glasses.
 
Refractive errors should be corrected with prescription glasses in children as healthy eyesight is vital in their overall development and well-being.
 
What are prescription glasses and the three types of refractive errors?
Prescription glasses, or simply eyeglasses, are vision-correcting aids. Eyeglasses have lenses that help address the wearer's error of refraction. As such, the frames are fitted with prescription glasses that generally treat the three types of refractive errors:
 
Myopia (Nearsightedness)

Nearsightedness or myopia is a refractive error where a person has a more elongated eyeball, giving them no trouble seeing near objects. However, distant objects may appear blurry
Hyperopia (Farsightedness)

Hyperopia or farsightedness is the opposite of myopia. In this condition, the eyeball is shorter that the usual. People with hyperopia usually see better at distance with near objects being blurrier. However, if the amount of hyperopia is higher, both distant and near objects may actually appear blurry.
Astigmatism

Astigmatism is a condition where nearby and distant objects can be blurry due to the lens or the cornea having an irregular curve. As light enters the eye, the retina has difficulty registering the images that the eye sees.
5 Signs Your Kid Needs Prescription Glasses
Because children usually do not complain of blurring of vision, it is very important to watch out for signs that may indicate that they may need glasses. Here are some signs that may warrant a visit to an Ophthalmologist.
 
1. Sitting too close to the television
When a child insists on staying right in front of the television, it could be because of a refractive error. The same is true for students who find the need to hold their books or other handheld devices like their tablets too close to their eyes while 
studying from home
. The short distance between the child and the object they are looking at allows them to see images or read words more clearly. 
2. Frequent headaches
Constant headaches can be due to various reasons, including too much use of gadgets among children or an undetected refractive error.
3. Squinting
Children may partly close one or both of their eyes to see better.
4. Tilting the head
Children who habitually turn their faces on one side or tilt their heads might be suffering from a significant refractive error or eye misalignments (
amblyopia
), also known as lazy eye, all of which may be corrected by prescription glasses.
5. Performing poorly in school
Sometimes, the only sign you get is when you notice that the grades of your child is going down. Your child might have a hard time seeing what is written on the blackboard or reading their textbooks.
Clearing the Vision
Eye conditions can affect children's ability to have a clear vision, focus on their studies, and enjoy their day-to-day life. Fortunately, parents can ensure their children's visual health with regular visits to an Ophthalmologist. By giving visual screening tests to children, the eye doctor can determine and treat any vision problems they might discover. Schedule an appointment at MakatiMed's world-class Eye Care Center.