By: Brigitte V. Garcia, RN; Joshua Jaime P. Nario, RN; Rommel G. Alegre Jr., RN; and Erika B. Macairan, RN – Nursing & Patient Care Services Division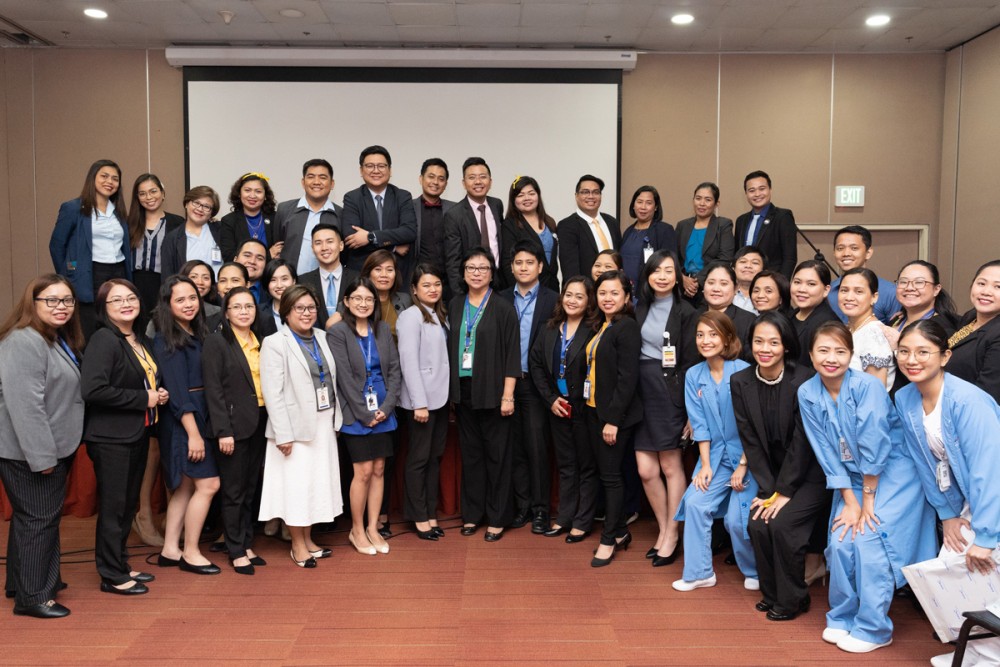 The Nursing & Patient Care Services team for the International Nurses' Week 2019.
Joining the global community and in celebration of the Makati Medical Center Golden Anniversary, the Nursing and Patient Care Services Division (NPCSD) celebrated the International Nurses Week with the theme "Nurses: A Voice to Lead – Health for All" on May 7 to 10, 2019.
 
The pre-celebration activities showcased continuing education programs for nurses. The 5th Nursing Lecture Series entitled, "Enhancing Nursing Competencies: Vascular Access Devices Care and Management," was held on May 7 at the 8th Floor Auditorium. More than 200 participants attended the educational programs. The sessions included "Monitoring and Managing Complications" by Ms. Ma. Cecilia P. Paje, RN, MAN, Clinical Department Manager for Cancer Center; "Biofilm and Device-Assisted Infection" by Ma. Theresa G. Santos, MD, Fellow of the Department of Medicine – Section of Infectious Disease; and "Going Deep: Central and Implanted Vascular Access Port Management" by Joan B. Benitez, MD, Consultant of the Department of Surgery.
 
Simultaneous with the lecture series was the Nurses Open Day, a one-day one-stop-shop recruitment activity. Nursing applicants underwent the screening process and interview and successful applicants joined the next batch of the Nurses Residency Probationary Program.
 
The Online-Trivia-Quiz-Bee was launched on May 7 and continued until May 10, where Chief Nursing Officer and Vice President of NPCSD Christine A. Donnelly asked a series of questions. The person or unit who answered correctly won prizes.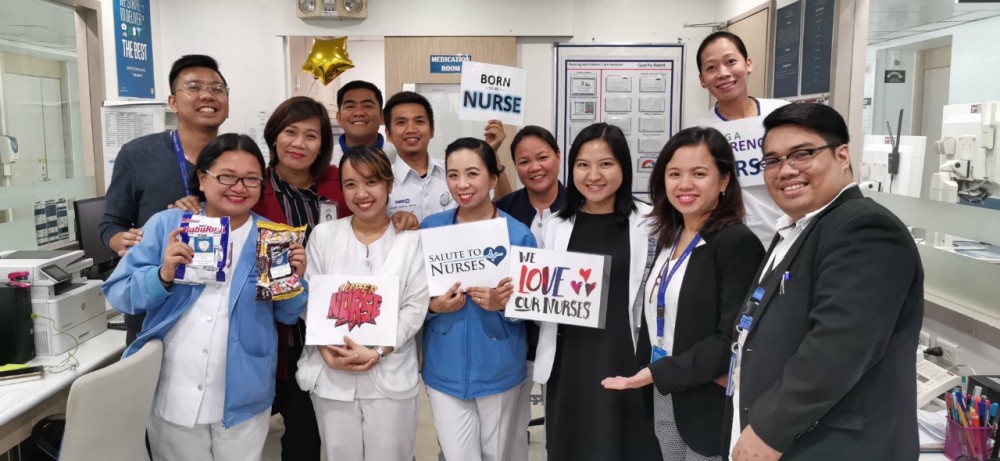 MakatiMed nurses celebrate the International Nurses Week.
The Grand Nurses' Day celebration was held on May 9 with the Eucharistic Celebration. The mass was officiated by Rev. Fr. Mark Ulysses Castro of the MakatiMed Chaplaincy.
 
The mass was followed by the Nurses' Recognition Ceremony. Nurses from different units were recognized and awarded for their commitment, dedication and outstanding clinical skills that made a meaningful difference in the lives of their patients and family.
 
"The nurse knows what's going on with the patients. It could be a mistake on the part of the doctors if they don't listen to what the nurses tell them. If nurses have to say something, say it for the safety of the patient," said Johnny B. Sinon, MD, Medical Director, during his inspirational speech. He was also awarded with a Plaque of Recognition for his outstanding leadership and support to the nursing division.
 
"We should celebrate our profession every day. Our profession requires us to spend most of our time with patients. We should work hard for our patients and achieve excellence in everything that we do," said Ms. Donnelly.

Nurses from around the metro attend the Nursing Grand Rounds on May 9, 2019.
Cardiac & Neuro Services (CNS) and the Medical and Surgical Intensive Care Unit (MSICU) hosted the Nursing Grand Rounds entitled "Respiratory Failure: Patient Centered and Advanced Care Management" at the 8th Floor, Auditorium on May 9, 2019. This Nursing Grand Rounds was attended by 180 participants.

The event was formally opened by Maria Michaela Caroline E. Miranda, RN, the Clinical Department Manager of CNS. Ms. Miranda also welcomed the participants which included MakatiMed Registered Nurses as well as colleagues from different institutions.

Pulmonologist and Critical Care specialist Jillian Tabora-Lacdao, MD gave the participants a concise yet informative lecture on the assessment, management and prevention of respiratory failure (RF). She also showed helpful diagrams and algorithms on how interventions and treatments are different for each patient with RF. Before she ended her lecture, Dr. Tabora focused on the importance of teamwork and collaboration between nurses, doctors and respiratory therapists to be able to successfully treat patients with this condition.
 
Cesar Bugaoisan Jr., one of the country's top Respiratory Therapists, followed Dr. Tabora's lecture. As a consultant for Medtronic Philippines, Mr. Bugaoisan shared his decade-long experience in working with various modes of oxygenation. He also discussed troubleshooting Mechanical Ventilator alarms, including possible causes and solutions.
 
MSICU Charge Nurse Ms. Marianne Macaranas, RN, MSHSM also presented the nurse's role in the management of patients in Respiratory Failure. Ms. Macaranas emphasized assessment points and nursing interventions as well as some case presentations that gave the participants a chance to apply their learning in a real-world setting.
 
Ms. Donelly shared her experiences about the latest trends in caring for patient with respiratory failure. She also expressed her appreciation to the nurses for continuing to do their best for the benefit of the patients. Following Ms. Donnelly's talk, Glaiza Ballester, MAN, RN, Clinical Department Manager of Medical and Surgical Intensive Care Unit, formally closed the event by extending the Critical Care Team's gratitude to the participants, guest speakers and healthcare partners.
 
The Nursing Grand Rounds is the embodiment of NPCSD's commitment to continuing education and service quality.