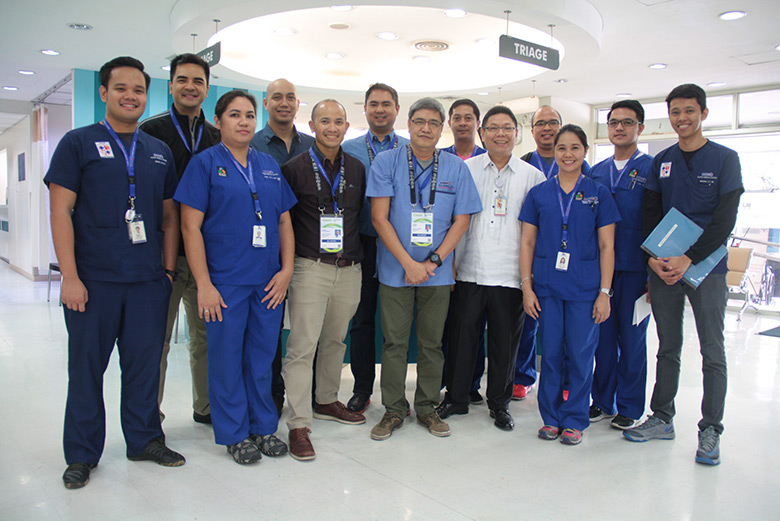 MAKATIMED SUPPORT TEAM FOR FIBA: (L-R) Paolo Lesaba, RN (Emergency Medicine); Vicente A. Reloza, MD (Chairman, Physical Medicine & Rehabilitation); Donna Perez, PTRP (PMR); Francis Fernandez, MD (Orthopedic Surgery); Marc L. Castro, MD (Orthopedic Surgery); Dino C. Vargas, MD (General Surgery); Gabriel G. Gabriel, MD (Chairman, Emergency Medicine); Roel Sabong, PTRP (Unit Manager, PMR); Johnny B. Sinon, MD, Medical Director; Malcom Cheng, PTRP (PMR); Daisy Turay, PTRP (PMR); Jay-Ar Paguio, PTRP (PMR); Charl Begnia, RN (Emergency Medicine)
Makati Medical Center was the hospital of choice of FIBA (Federacion International de Basketball) for the Men's Basketball Olympic Qualifying Tournament at the SM Mall of Asia Arena from July 5 to 10. 
Two other qualifying tournaments were held during the same week in Turin, Italy and Belgrade, Serbia. 
As a partner hospital of the International Basketball Federation, MakatiMed nurses, doctors, and sports medicine specialists provided on-site medical assistance to participating athletes. MakatiMed was also on-call for other medical services FIBA might need for the duration of the tournament.
"MakatiMed's world-class facilities and highly trained healthcare professionals ensured the health and safety of participating athletes in this elite tournament," said Rosalie R. Montenegro, Makati Medical Center President & CEO.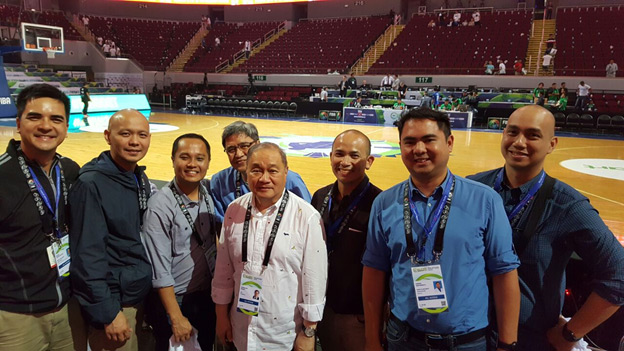 MakatiMed doctors with Manny V. Pangilinan, MakatiMed Chairman.
 The Philippine national team Gilas Pilipinas competed in the qualifiers.
The Olympic Qualifying Tournament will determine which teams will compete in the 2016 Summer Olympics to be held this August in Rio de Janeiro, Brazil.