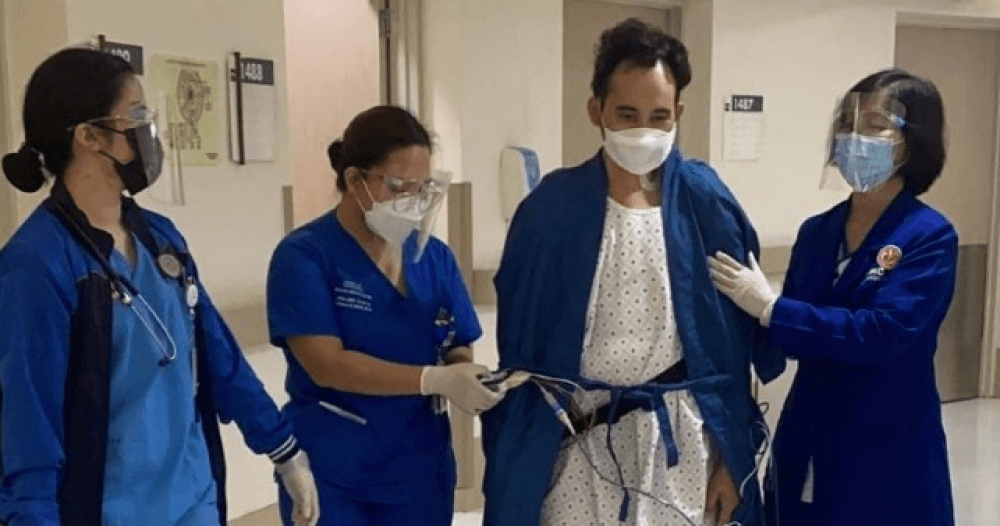 At the young age of 17 years old, Jovit Garcia felt that something was wrong with his heart. Despite being a member of his college mountaineering club, which enabled him to climb steep slopes before, including the famous Mt. Pulag, Jovit started to find walking up the stairs challenging. He experienced shortness of breath even after taking just a few steps.
This prompted him to have a checkup with one of the cardiologists at Makati Medical Center (MakatiMed), where he was diagnosed with dilated cardiomyopathy (DCM) after a series of cardiac testing. DCM is a condition where the heart can no longer pump blood due to the weakness and swelling of the left ventricle. As the left ventricle is the heart's main pumping chamber, DCM makes the heart less effective in pumping blood to all areas of the body.
Upon diagnosis, Jovit had to refrain from doing his old hobbies, so he spent most of his time resting. Then, under the supervision of cardiac electrophysiologist Anthony B. King, Jr., MD, a Cardiac Resynchronization Therapy – Defibrillator (CRT-D) was inserted to improve his heart functions. However, this wasn't enough.
Technology Saves the Day
According to Dr. King, "after four to five years, his health started to deteriorate despite the interventions." In May 2021, Jovit experienced extreme stomach pains due to appendicitis. If he had undergone surgery, his doctors were worried about potential complications due to his already deteriorating liver and kidneys. Thus, Dr. King recommended that it was time for Jovit to have a Left Ventricular Assist Device (LVAD) implant.
The LVAD would be surgically implanted on the bottom part of the heart. The device, which can last to a period of 10 to 15 years, serves as an artificial heart pump that draws blood from the left ventricle to the aorta through a pump attached to a tube, carrying blood from the heart to the blood vessels. The device also contains a power source and is connected to a control unit which the patient can check to see how well the LVAD is working.
According to cardiologist-intensivist Oliver M. Sansano, MD, a patient may be a suitable candidate for heart transplantation once they no longer responds to conservative measures and medication, is reaching the end stage of heart disease, and has their other major organs compromised.
Unfortunately, this procedure is not available in the Philippines, and a compatible, healthy heart is difficult to find even in countries where the transplant can be performed. Consequently, mechanical circulatory devices such as the LVAD can bridge recovery and heart transplantation while serving as destination therapy for advanced or end-stage heart failure.
Jovit and his family were more than willing to have the LVAD procedure done. Jovit's wife, Lyne Garcia, stated in an interview that he "has always wanted to have a mechanical heart because he wants to live longer. He wants to see our kids grow up." Fortunately, after being screened for indications and potential contraindications, Jovit was deemed a good candidate for the LVAD implantation.
Dr. Ramon I. Diaz, Jr., MD, who led the cardiovascular thoracic surgery, noted that Jovit's heart was stiff and enlarged during the assessment. However, after the implant procedure in June 2021, Dr. Diaz had already noticed positive changes in Jovit's heart functions—indicating that he ultimately benefited from the LVAD right after the procedure.
Both Lyne and Jovit also testified to the improvement. Before having the LVAD and despite 10 years of CRT, Jovit would still find it hard to breathe and eat or have bouts of constipation and cold, clammy skin. The LVAD implant allowed him to eat healthier food, go through rehabilitation better, take 15-minute walks, lift dumbbells, exercise on the stationary bike, and go outside of his room to play with his kids.
​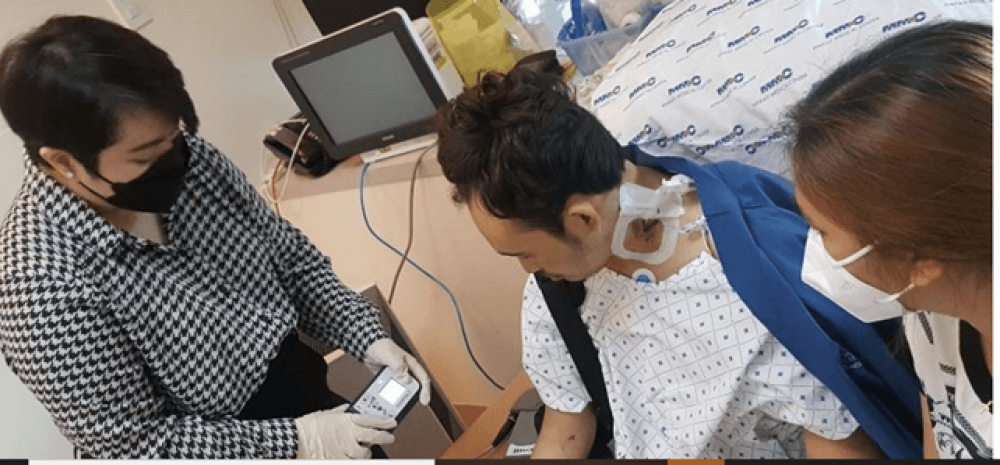 Living a Better Life with LVAD
Since the LVAD is powered by two portable external batteries that provide 17 hours of support, one of the significant changes in Jovit's lifestyle is that he has to carry these around whenever he leaves the house. To minimize the weight when at home, he opts to hook the device to a power source. However, Lyne notes that this makes the family wary of blackouts, making her want to purchase a generator set.
The LVAD could last up to a decade and requires careful maintenance. Nurses or caregivers at home usually tend to the management and tech checks of the device, as well as monitor the patient's condition to avoid any infections, hemorrhage, and device thrombosis post-surgery. To prevent the device from getting wet, Jovit must put off activities such as swimming and taking baths must be done with diligence. He is also expected to maintain a healthy and balanced diet. MakatiMed is also helping Jovit regain strength in his skeletal muscles to reduce his limitations in other activities over time.
Despite these changes, Jovit, now 32 years old and a father of two, lives a much healthier life with his family. He was always confined to his room before, but now Lyne exclaims her surprise whenever she finds him downstairs with the kids. Jovit has many more dreams to accomplish and even wishes for another child—which Lyne jokingly opposes.
The couple praised MakatiMed's team of doctors, nurses, and department heads who have stayed by Jovit's side all this time. Lyne shares that they monitored Jovit's condition around the clock, even during Sundays and holidays. She adds that they probably wouldn't have witnessed this amount of competence and care if they had chosen to have a transplant in another country.
Health at the Forefront to Ensure Many Years to Come
Jovit continues to share his journey and success story online, particularly on the "LVAD Warriors" Facebook page.
He and his family want to inspire those who suffer from heart disease by being a testament that not all hope is lost.
It's important to note that Jovit sought medical help upon the early onset of heart disease symptoms. This stresses the value of early detection, paying close attention to red flags such as fatigue and exhaustion when performing usual activities. When these are shared with a doctor as early as possible, there is a higher chance to successfully battle the disease.
Above all else, placing health as a priority in one's life will ensure a long and happy life. Even before the onset of an illness, people should maintain a balanced and nutritious diet, exercise regularly, and research on living a healthier lifestyle overall.
For expert guidance in your health journey and world-class healthcare services, get in touch with Makati Medical center today.