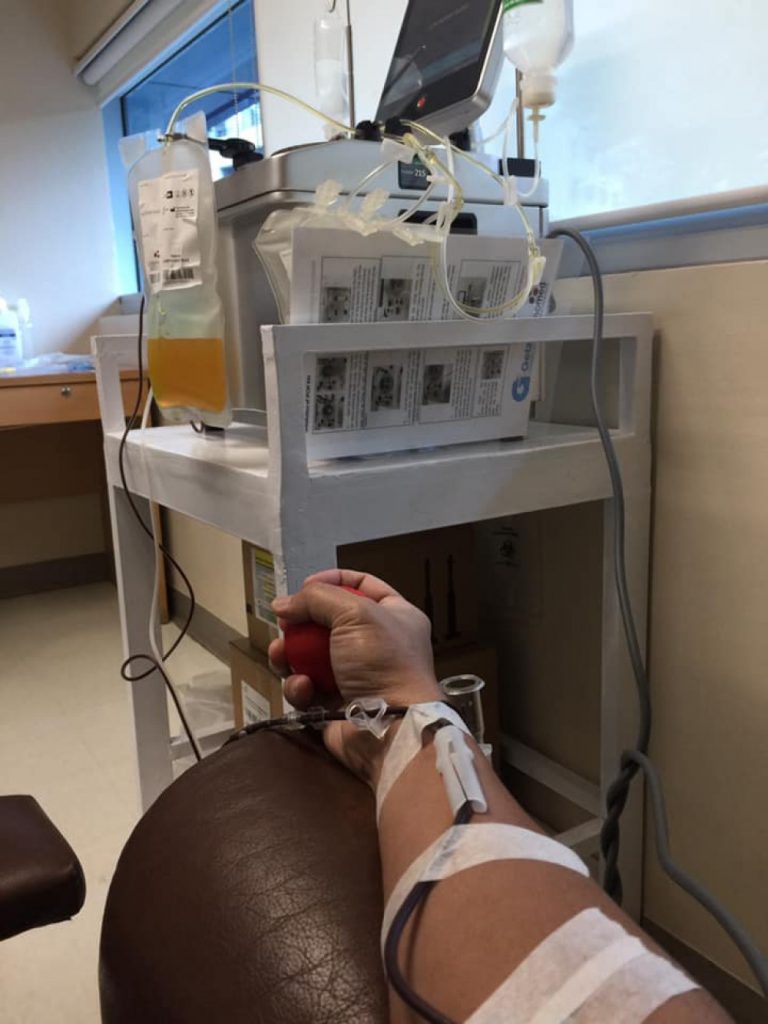 Frontline healthcare workers put their physical, social, and mental health on the line to ensure COVID-19 patients are provided the care they need, even if it means increased exposure to the virus. Dr. Norberto "Robbie" Meriales, an orthopedic surgeon from Makati Medical Center, was one of the healthcare workers who contracted the deadly disease. This is his story. 
Early stages of infection
Dr. Meriales' COVID-19 symptoms started manifesting in mid-March 2020, which began with a fever and coupled with slight weakness, but they did little to stop him from running 5K distances. Taking paracetamol every four (4) hours brought temporary relief for him at the time.
Not soon after, Dr. Meriales and his wife, Mizzi, found themselves in the Hot Zone of the MakatiMed Emergency Department. Fortunately, his wife tested negative but he wasn't as lucky.
After several more tests, both of them got confined in separate negative-pressure rooms. At this time, they called their children back home to deliver the shocking news and asked them to pack clothes and toiletries for their hospital stay.
Strangely enough, the girls panic-packed a leather jacket in Dr. Meriales' bag. "They dumped an assortment of clothes in my bag, including my leather jacket. A leather jacket! In the hospital!" the doctor recalled.
Days later, he experienced what the doctors call the "cytokine storm," which happens when the host's immune response to the COVID-19 virus results in excessive inflammatory reaction. "My chills and fever were constantly there the whole day despite the antipyretics. My body ached all over. I asked for an extra blanket but it wasn't enough. Then I remembered: I have a leather jacket."
What seemed useless at first proved to be useful during the constant chills and fever when the blankets were not enough. He remarked, "I got up, wore the jacket, curled up under two blankets, and shivered in style." 
Intubation
Three (3) days after his confinement, his X-ray showed his left lung was almost entirely white, which meant it was full of fluid. At that moment, he knew that he was going to be intubated. Upon learning this, he and his wife frequently video-called to help comfort each other during this trying time. "Mizzi and I were almost constantly on video chat that moment onwards. I guess we needed to see and hear each other as much as possible through those tense hours. It was like saying goodbye without saying the word goodbye," he narrated. Dr. Meriales also spoke to a priest to make his peace with the Almighty.
The night came, and he was intubated in his regular room until a bed in the Intensive Care Unit (ICU) became available. After a while, he woke up with a tube in his airway, hooked to a mechanical ventilator. Added to that were the heart and Oxygen monitors, a feeding tube, a central intravenous (IV) line, and a urinary catheter.
The following morning, he was transferred to the ICU. His hands had to be restrained because of the things he was hooked on to. He asked a nurse for a pen and paper to free his hands, writing, "Thank you. I promise I won't extubate myself. Please keep my hands free."
Since he was not sedated, he could perceive everything that was happening around him—the beeping monitors, the occasional alarms, and the ticking clock hanging across his bed. He spent the longest days in the hospital, with not much else to do but lie down.
With a rosary taped to his wrist ID tag, he would just pray. He would pray the rosary, then try to sleep. If he failed, he would pray again. He had lost count on how many times he prayed daily.
Dr. Meriales said he prayed to Mother Mary in his head a lot, asking her to "Please come over and just give me a hug." He also "talked" to his mom, who passed in 2017, and said, "Ma, huwag kang magpapakita sa'kin ha. Huwag mo akong yayayain. Hindi ako sasama sa'yo." (Ma, please don't show yourself to me. Don't ask me to come with you. I'm not coming.") 
Hospital stay treatment and experience.
When the outbreak happened in late March 2020, MakatiMed had to install negative pressure systems in COVID-19-designated rooms and ICUs for infection control. Because of this, the ICU was constantly warm. During his stay, Dr. Meriales came to understand the hardships of the healthcare workers and appreciated their patience. One nurse stood out—though he cannot exactly remember her name—as she was the "toughest yet kindest of the ICU nurses" he has ever met, assisting him with cleaning and bathing.
"The nurses and orderlies went on 12-hour shifts in full head-to-toe Level IV PPEs. You would see their goggles fog up. Yet I never heard a single one complaint in their bunny suits. They were extremely patient with me," Dr. Meriales recalled.
He was tube-fed three times a day. The nurses would come with liquid meals and meds to feed him. Once, he requested ice-cold water, which the nurse thought was baffling at first. After Dr. Meriales said it feels the same as drinking cold water, the nurse instructed the others to give him ice water each time. It may appear as a strange request, but the nurse still made sure it was granted to make sure he was comfortable. "There they were. ICU nurses. The toughest soldiers I know with the kindest hearts. Made things bearable during those hard times. They were my angels in bunny suits," Dr. Meriales said. 
Regaining strength, extubation, and going home
Dr. Meriales knew the effects of COVID-19 on the body and how it could render a patient unable to walk or stand after lying in bed for so long.  He asked someone to keep all the wires away from his area of movement so he can exercise while in bed (e.g., raising his legs, swinging his arms, and several isometric core exercises).
On April 1, 2020, Dr. Meriales was told the exciting news that he would be extubated soon. The doctor observed his breathing for an hour, then placed an acrylic partition as a shield in case of coughing from extubation. The doctor did one swift pull, and out went the tubes. His first non-liquefied meal in over a week was the essential lugaw. As he remarked, "It was heavenly."
Several hospital food meals later, he was ready to go home. He was warmly welcomed by his daughters and everyone else who cared for him. At home, he had his first peaceful sleep in weeks.
A little over a year later, and Dr. Meriales had donated convalescent plasma four (4) times, one for a high school classmate who got infected. Moreover, his lung capacity has increased. He is now capable of running 8 km and has already received his full dose of the COVID-19 vaccine. 
Surviving COVID-19
This is just one of the many stories of courageous COVID-19 survivors. The fight against the disease is not an easy road. For the sake of prioritizing safety and avoiding infection, we urge everyone to follow health protocols at all times and consult with a doctor for early signs of the disease.
How long does it take to recover from the coronavirus? It depends on the severity. If you feel that there is more to your symptoms or you have come in close contact with someone infected, reach out to Makati Medical Center for diagnosis, treatment, and management of COVID-19 and other infectious diseases.