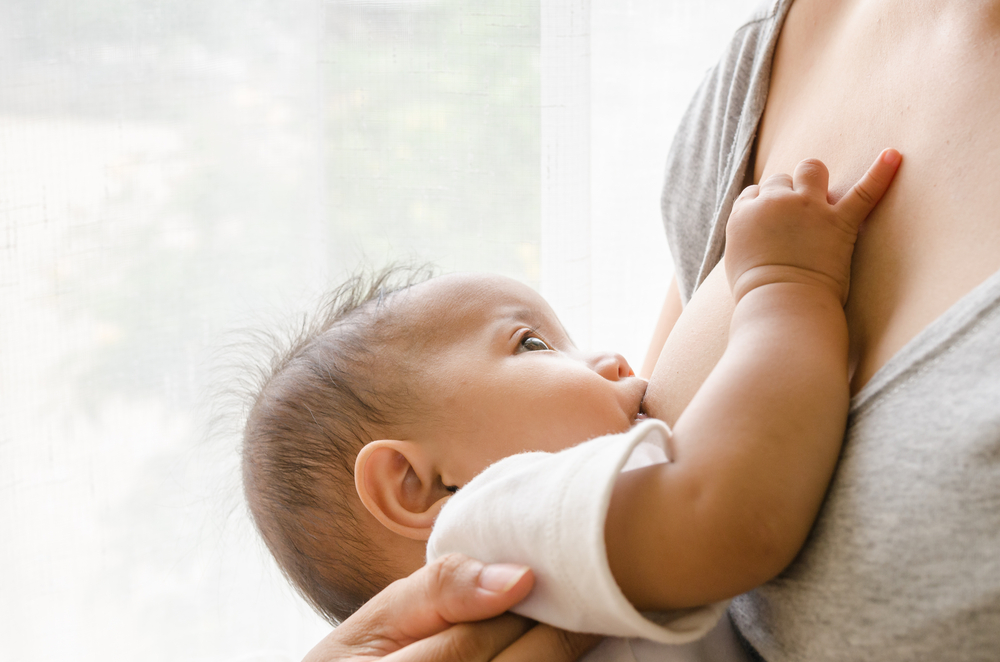 Mothers want the best for their children, especially during their early years. Hence, many prefer breastfeeding to feeding newborns with formula milk. 
There is no doubt about the benefits of breastfeeding to the infant and the mothers themselves. It is a source of good nutrition for children as it also boosts immunity to fight short- and long-term diseases. It may also reduce the mother's risk of certain conditions.
Misinformation about a normal biological function like breastfeeding is prominent. It is time to discover the truth about some of the most common myths about breastfeeding.
8 Breastfeeding Myths, Debunked
There are many misconceptions about breastfeeding, with some less common than others. Let these science-based facts address any confusion and misunderstandings.
1. Myth: Breastfeeding changes the breast's shape and size
Changes in breast shape or size occur as a result of pregnancy, and not from breastfeeding. Meanwhile, breast ptosis, which is the sagging of breast tissue, is more associated with weight loss.
Women's bodies vary in size and shape as they undergo various stages of pregnancy. Some gain weight and see manifestations of hormonal changes in the body, while others even experience pregnancy complications. Pregnancy-related breast changes include growth or enlargement, itchy skin, darkening of nipples and areolas, prominent breast veins, and tenderness. 
While breastfeeding may change the look and feel of the breasts, most changes will happen in just the first few months after the baby is born.
2. Myth: A mother should avoid breastfeeding when sick with the flu or COVID-19 or if they get vaccinated for the disease
Flu and COVID-19 viruses are transmissible through tiny liquid droplets from sneezing, speaking, and coughing, among others. When a baby is in close contact with the flu/COVID-positive mother, the chances of contracting the disease are those actions by the mother and not through her breastmilk.
The possibility of the baby getting infected through breastmilk is low, but it doesn't mean that the baby cannot contract the virus through other means. If it is necessary to isolate the mother, she can try pumping and storing milk for the baby's consumption. Mothers should still practice hand washing and wearing a face mask while feeding.
Even when the mother is sick, there will still be antibodies from the milk protecting the baby. Getting a vaccine will reduce the chances of acquiring the disease. It is not proven that the COVID-19 vaccine flows through the mother's milk. 
3. Myth: Only eat bland foods when breastfeeding
Think of it this way: the womb housed the baby for months. Even then, the child was already exposed to the mother's food choices. The only type of food that mothers need to eat when breastfeeding is a balanced diet—bland or not. 
If the baby comes out healthy, there is nothing to worry about. There are no inherent dietary restrictions when breastfeeding unless prescribed by a trusted medical professional.
4. Myth: Exercising can change the taste of milk
Breastfeeding mothers are humans, too. For humans to have healthy biological functions, exercise is necessary. Light to moderate exercise is safe without having any effect on the taste of breast milk. However, a study has shown there may be some truth to this myth. A high-intensity workout session elevates lactic acid levels, which may give breast milk a bitter taste.
5. Myth: Separation of the mother and newborn after birth is necessary for the mother's rest
Skin-to-skin contact, kangaroo mother care (KMC), is vital to establishing the mother-child bond. This practice is typically performed within the first hour of birth to help the child find their mother's breast and initiate breastfeeding. 
This step can save up to 150,000 children's lives. It also prevents babies from infections and hypothermia. Moreover, separating the child from the mother can only add further stress to both parties. 
6. Myth: Resting from nursing increases milk production
Bodies are intelligent systems. It knows what the baby demands. So when at rest, the body will only slow down milk production. Feeding more will trigger breasts to produce more milk. 
7. Myth: Breastmilk only provides benefits for the first few months
Breastfeeding provides optimal benefits for the baby's health in the first few months. However, there are more lasting benefits for the mother and child when the practice is continued beyond this timeline. 
The mother's risk of high blood pressure, type 2 diabetes, and ovarian and breast cancer are lowered. A breastfed child will make them less prone to obesity, lung infections, and Sudden Infant Death Syndrome (SIDS).
Experts recommend that infants feed on their mother's milk for at least two (2) years.
8. Myth: Breastfeeding is not allowed when taking medications
Most medications do not meddle with the milk's chemistry, even those that treat anxiety and depression. However, this will still depend on a specific drug's composition. Most of the time, a doctor will note these medications in prenatal and postnatal checkups and will recommend safer alternatives if harmful to the child.
A Mother's Milk is Still the Breast Way to Go
Motherhood can be challenging, especially when bombarded with more information than parents can work with. It can be confusing and lead to unfounded beliefs that are still practiced today. Instead, one can do better by only consulting experts and helping clear out the cloud of disinformation by sharing verified facts.
Seek help from only the best healthcare providers in the country. Mothers and newborns deserve world-class medical facilities and healthcare services from Makati Medical Center. MakatiMed is accredited as a Mother-Baby Friendly Hospital, and continues to introduce innovations to protect, promote, and support breastfeeding. Reach out to us by booking an appointment.