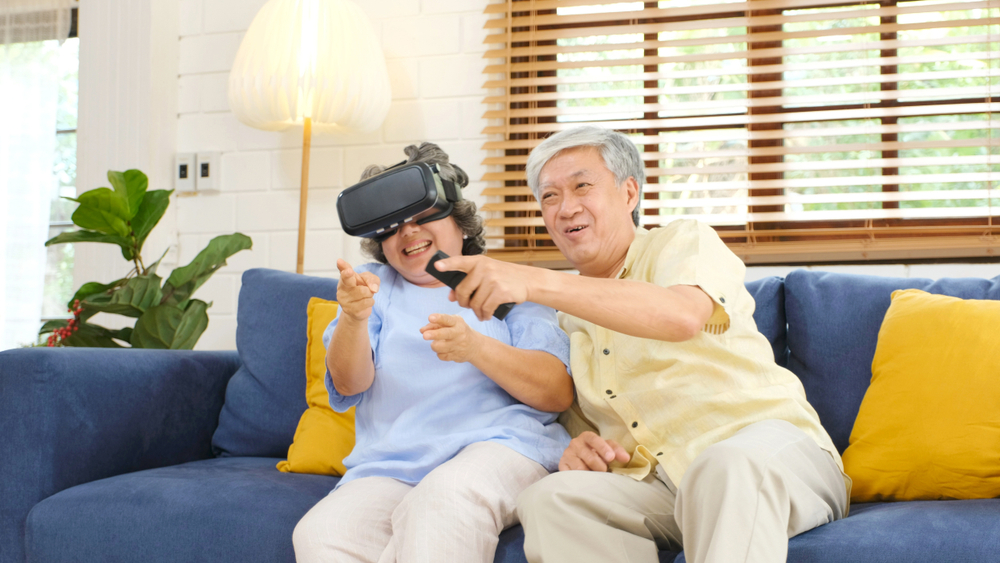 The pandemic has forced many people to be both creative and productive while quarantined in their homes. With quarantine rules in effect for the past months since COVID-19 was declared a pandemic, the adjustment period has passed for many.
Certain areas now allow people to step out of their house with caution, but travel restrictions on those below 21 years old and the elderly who are 60 and older remain.
That said, some seniors still miss their old routine, which includes walks outside as one of their ways to stay active. Since they are the most high-risk and vulnerable age group to the disease, it is still best to stay indoors. 
Why do the elderly need to stay at home?
Scientific studies have shown that the risk of severe illness from COVID-19 increases as a person gets older. While only 3.6% of all cases are deadly, the mortality rate rises to 20% for 80 years old and above. Another factor is that many seniors have underlying medical conditions, which can worsen the disease's impact on their health.
Regardless of age, being immunocompromised puts a person in a higher risk than those who are generally healthy. 
Fun Quarantine Activities for Seniors
Being at home all day can still be fun and entertaining. Here are some activities seniors can do to enjoy their time indoors. 
1. Take virtual trips and tours
Ever thought that traveling using electronic gadgets would be possible? Seniors can use the technology available today by going on virtual tours of famous landmarks. This is especially favorable to those who may have difficulty visiting all these sites and museums even when quarantine measures were not in place.
Setting these up with other families around and screen sharing the video call to view the sites can be a nice bonding activity for seniors and other family members. 
2. Watch livestream concerts or shows of entertainers
Many shows have moved to the online platform, including many of the elderlies' favorite entertainers. If there are live streams of concerts or plays of famous singers, dancers, or performers, it's now easy to tune in. In some cases, it is possible to purchase a ticket and watch the show at the most convenient time.
These concerts are also a way for the industries badly affected by COVID-19 to recover amid all the closures. Attending concerts is not just entertaining but a way to support the live events industry, as well. 
3. Exercise and get moving
Exercising may seem like it is not fun, but it can be with the right workout. There are plenty of online or pre-recorded classes that cater to different physical levels, from high-energy Zumba and aerobics dance classes to a more silent and meditative Tai Chi or yin yoga class.
What can make this more fun for seniors is to do it with their friends, even if it's only online. Setting up a Zoom session to see their buddies do the workout with them can lift their spirits for sure. 
4. Pick up a new artistic hobby
Quarantine is a good time to engage in arts and crafts, no matter the age group! Depending on the senior's interest, they can choose to engage in activities that match their skill level.
Something as simple as adult coloring books can work—and they have proven to be a stress-relieving tool for many. There are also other projects, like knitting or crocheting, that they can do to create handmade clothes for their loved ones if they wish.
Another great idea is building themed scrapbooks, either filled with their favorite subjects or perhaps memories from the past. 
5. Regularly take video calls with friends and family
Seniors need time to detach from their day-to-day routine and have fun chatting with their friends, too. To give them something to look forward to, schedule a day for video calls with their friends and family. This gives them their dose of social interaction, plus updates from their loved ones even if they can't physically see each other.
Setting up video calls for them is quick, so even if other members of the household are preoccupied with work, it's doable. 
6. Have scheduled family activities
Besides all the virtual activities seniors can do, nothing beats companionship. So, if there is one day a week (or more) that the family can set aside to visit, cook meals for them, or watch a movie together, this will surely light a smile on either grandfather or grandmother's face.
Keep things varied and interesting for them, so they don't get bored easily. It's also worth asking them what they want to do on a particular day, so they also feel involved with the activities. Most importantly, make sure everybody is free from any infectious disease before paying a visit, and all safety protocols are followed. 
Home is Where the Heart Is
Having a loving environment is vital for having happy and healthy seniors. Do not hesitate to reach out to MakatiMed for immediate treatment at the onset of any health concern. MakatiMed remains to be a safe facility offering services ranging from neuropsychiatry to geriatric care that can help in caring for your elderly loved ones.